A few days ago, Fenjie Town, Taixing City launched a series of activities on the theme of "Party is Sunshine and I am Miao". Through an "immersive" learning journey, it guides young people and children to spend a happy summer vacation that enlightens their hearts and enriches the spiritual and cultural life of young people and children. .
Anime Red Movies Relive the Glorious Years
On the first floor of the New Era Civilization Practice Institute, students from the Qingzi Charity Summer Nursery School in Yanjie Village and ethnic minority children in Fenjie Town are watching the animation movie "Blood and Fire: How New China is Made" on the big screen.
"The film directly shows the magnificent history of the Chinese Communist Party's centuries of struggle in the form of animation. It is gratifying for the children to watch the film with such a high degree of concentration. We will continue to explore resources, enrich the carrier, and broaden the channels to continuously improve the absorption of party history learning and education. Degree." Zhang Lingli, member of the Propaganda and Traditional Warfare Committee of the Boundary Town, introduced.
Questions and answers about party history inspire enthusiasm for learning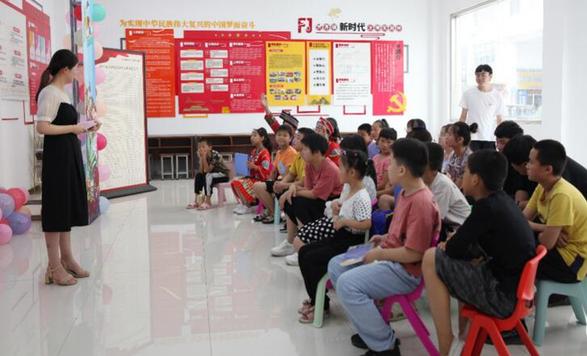 "The next question, the children have heard clearly, who was the first person to spread Marxism in China? Think about it, there is an answer in the film just now." Wei Zhangqun, a young cadre in Fenjie Town, asked the children sitting together . As soon as the voice fell, everyone raised their hands, "It's Li Dazhao!" "The answer is correct. Congratulations to this kid for winning the prize." The Party and Mass Work Bureau of Fenjie Town, based on the animation film content, designed 10 small questions about party history in advance and carefully prepared them. Books on popular science, history, and fairy tales were chosen as the rewards for answering questions. Through fun and competitive interactive exchanges, the children deepened their understanding and memory of party history knowledge, and aroused their enthusiasm for party history from elementary school.
Juvenile poetry reading shows unity
"Youth is wise, the country is wise, and the youth is rich, the country is rich; the young is strong, the country is strong, the young is independent, the country is independent; the freedom of the young is free…" Four students from ethnic minorities brought a poem recitation of "Young China". They put their love for the party and the motherland into the lines, and their sonorous voices shouted the momentum of "for the sake of sacrifice", and their full and full feelings showed the style of "dare to change the sun and the moon."
"Through this event, I have learned a lot. We children of all ethnic groups must be more united, hug each other tightly like pomegranate seeds, arm in arm and shoulder to shoulder, to be the inheritor of Chinese culture and the inheritor of national rejuvenation. "Xiao Yu from the Dong nationality said firmly.
"In the future, we will combine the physical and mental characteristics, ideological reality, and cognitive laws of teenagers and children, and carry out party history learning and education and theme practice activities by age, level, and focus, so as to help the red gene and the revolution to pass on from generation to generation." Said Xu Lei, deputy secretary of the town party committee. (Zhang Lingli and Li Meng)