That anime was the catalyst for becoming a voice actor! Impressed by the lines from Natsuki Hanae !!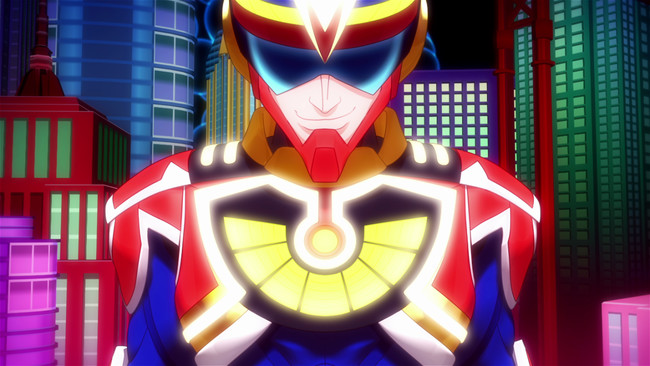 (C) Tatsunoko Production / MUTEKING Production Committee
——You have won the audition for "MUTEKING THE Dancing HERO", starred for the first time, and started to move forward as a voice actor. What made you want to become a voice actor in the first place?
Mashiro I've been watching anime since I was a kid. It all started when I was in the first year of junior high school.
——What happened?
Mashiro: At that time, I was absent from school. I had a close friend, but when I couldn't say anything because I was attending another junior high school, I was recommended to read the manga "Tokyo Ghoul", which is interesting. It was very interesting and I started watching the anime version. In that work, the main character, Ken Kaneki, has a line saying, "I don't want to be able to do anything anymore."
——It's a line in an important scene, isn't it?
Pure white That's right. I say it to Touka Kirishima in the early stages and to the enemy in the final stages, but I was moved by the lines. I just escaped from the pain and stayed at home, but that line made me think, "If I have to do nothing, nothing will start", so I started going to school. The lines saved my heart and supported me.
——It has become an important work. After that?
Mashiro Suddenly, I wondered who was in charge of Kaneki's voice in the anime, and found out that it was Natsuki Hanae. From there, when I started watching Hanae-san's appearances, I began to be interested in anime and voice actors. I wonder what would have happened now without Kaneki, who plays Hanae (laughs).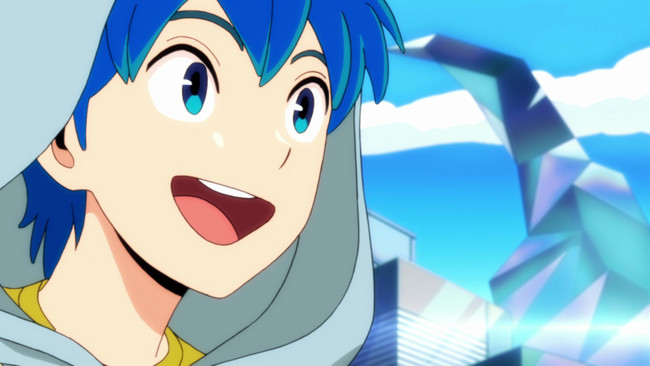 (C) Tatsunoko Production / MUTEKING Production Committee
——So how do you get to the audition?
Mashiro High School enrolled in a school where voice actor lessons can be taken through off-campus collaboration. It's not up to a vocational school or a training school, but I was able to learn basic things such as tongue and Uiro Uri. So I thought it was "interesting!" And started thinking about aiming for it in earnest.
——It 's very positive! Did you talk to your parents?
When discussing the pure white course, when I said "I want to be a voice actor!", I felt like why !? I was strongly opposed to the fact that I couldn't eat it in the entertainment world.
——I don't understand the feelings of my parents (sweat).
Mashiro To be honest, I haven't been able to study, and I haven't had any other special skills, so I have no choice but to challenge! If that's not possible, then think about it! Determined. From there, I muted the sound of the animation recorded at home, practiced to match it with (mouth), and went to a vocational school experience enrollment as much as possible.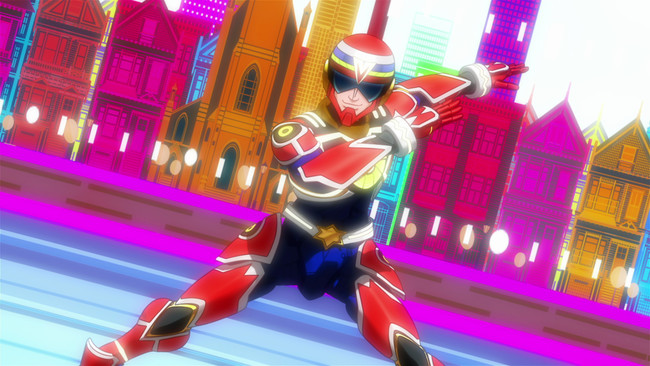 (C) Tatsunoko Production / MUTEKING Production Committee
–this! If you decide, you also have the power to act.
Mashiro During the experience enrollment, there was an event where parents could be accompanied. I learned so much from my parents here! I thought that if I showed up, I would be convinced, so I asked him to come and see me.
——It's a big chance, how was the result?
It was a great success, and my parents were convinced that I was doing my best!
–You did it, did not you! … Well, how did you get to the audition then?
Mashiro So, when I'm in my third year of high school, I can find an audition for "MUTEKING THE Dancing HERO" online and apply for it to the general public! I applied for it.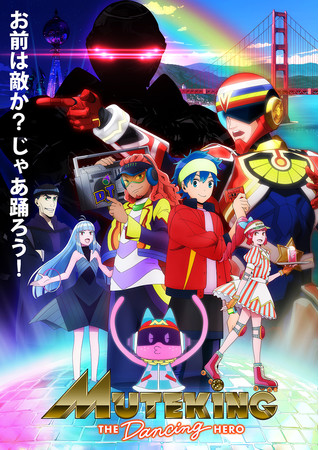 (C) Tatsunoko Production / MUTEKING Production Committee
——Then you found it by chance
Mashiro So, one episode of the previous work was released on official YouTube, so when I saw it, the color was cool, the tempo was fast, and it was interesting so I could not think it was a work several decades ago, so I decided to accept it. thought.
——How was your audition?
Mashiro I went through the first and second screenings and had a training camp for 3 nights and 4 days, which was a lot of fun. Of course, the lessons are taken seriously, and other meals and free time are like school trips, and all the lesson students are good people and it is a very good memory.
——Usually, it seems like a tingling sensation (laughs). So for the final examination?
Pure white Yes. There were assignment songs, free songs, dances, and plays, but I was full of anxiety because I was self-taught as I mentioned earlier. That's why I received it because it happened to be close to the character of Muteki, and because I was from Kansai, it seemed to suit the Noritsukkomi of "MUTEKING". I really appreciate your choice.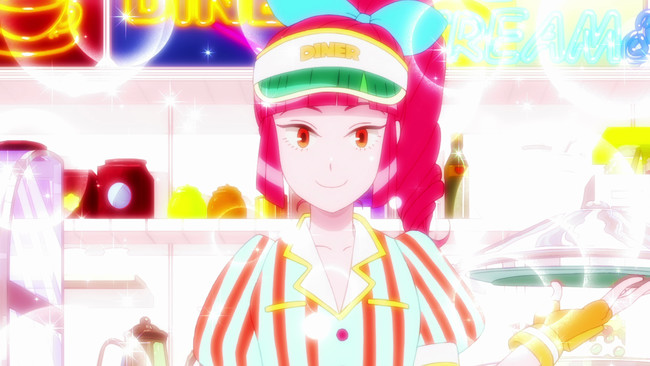 (C) Tatsunoko Production / MUTEKING Production Committee
Tension MAX at the first recording site! What is the word Takuya Eguchi gave to such pure white?
——So what kind of efforts did you make during the period from that point to the recording?
Pure white Basically, while doing self-discipline, before the recording performance, I took a lesson to match the park and it was the actual performance. I was wondering if there was a good lesson, so when I entered the scene, I was full of anxiety.
——What was your first voice as Muteki in such a situation?
Mashiro The first line was "Wow, awesome!", Which is also played on PV.
——I was really impressed by watching the lines and PV!
Pure white Really, thank you! I was happy to hear that Mr. Eguchi (Takuya), who played the role of DJ, said, "Paku was also matched for a newcomer, and I thought it was amazing."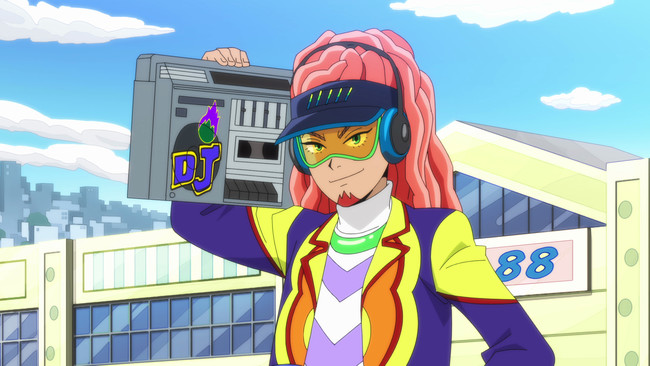 (C) Tatsunoko Production / MUTEKING Production Committee
——It will raise your tension! So, have you ever tried to play the role of Muteki?
I read the pure white script, but I was worried, so when I consulted with sound director Takumi Ito at the scene, he said, "It's okay if you can tell me what you felt on the spot as Muteki. You don't have to think about difficult things. He said. Thanks to that, I calmly started recording.
—— That was a great piece of advice.
To be honest, I thought that the character Mashiro Muteki was close to me. At first, the main character had a strong image of being energetic and straightforward, but after reading the script and starting to play, he was a normal teenage boy in a good way, or similar to his own circumstances, and had a simple personality. Because it was, the sense of distance shrank at once.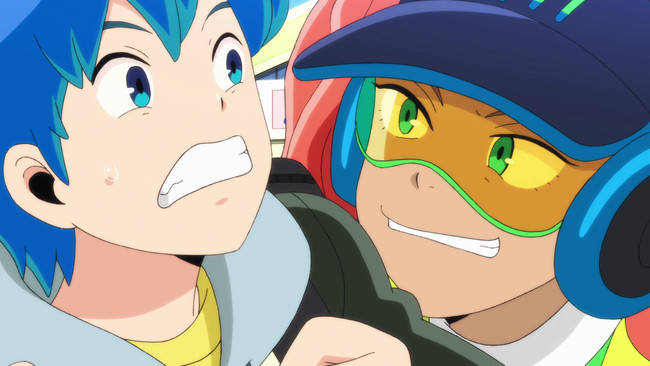 (C) Tatsunoko Production / MUTEKING Production Committee
—— From the first look, I thought that the atmosphere of Muteki and Mr. Mashiro's voice were very addictive.
Mashiro: I'm close to myself, and I played naturally, so I'd be happy if you could say that. However, there were times when I had to match up with Park and catch up with the co-stars. Even there, I was taught by Mr. Ito.
——Oh, what do you mean?
Mashiro For example, in the reaction scene, I was reacting after knowing that I was surprised by something in the script, but I said, "I don't know Muteki-kun, so look-ahead play is useless." I realized that it was true. I challenged myself without thinking with my head white. I learned a lot every day.
——It feels like you've grown steadily. Then, please tell us the highlight of the work again.
Mashiro First of all, the music stands out, and there are many good songs as well as opening and ending songs, as well as insert songs, so please listen to them. It is fun as a viewer that the seniors play the sharp characters in a fun way. In the story, there are always scenes that stand out not only in the main character but also in the surrounding characters, and there are various mysteries, so please watch the details and be surprised that "there will be connected !?"!
——Well, I watched episodes 1 and 2, but I didn't notice.
Pure white Please note that the story begins to move from the third episode onwards. Also, it is a content that will be enjoyed and surprised by those who were fans of the previous work.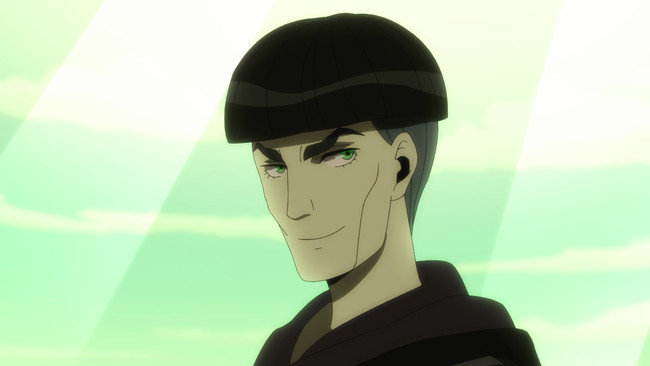 (C) Tatsunoko Production / MUTEKING Production Committee
——I'm expecting a lot of meaningful remarks. Also, the official YouTube channel for "MUTEKING THE Dancing HERO" has been set up, and you're taking on the challenge of planning for the first time in a while.
Mashiro The first video was an amateur bare partition, but my seniors talk a lot, so I study every time. Instead of saying what I came up with, I started to realize that I had to chew it in my head and then speak.
——I see, that's why recent videos have become better at progress. Then, what was the most memorable time?
It is a drawing confrontation with Mr. Mashiro Eguchi. It's interesting to draw with a unique touch, what about human joints? The shocking style of painting pops out. It was also interesting to read Kazuyuki Okitsu and Momotaro, a fairy tale. I read it in the Kansai dialect and gave a tsukkomi to Mr. Okitsu, and the sense of distance became very close. An impressive project with KENN will be released in the future, so please look forward to it!
—— Finally, what kind of voice actor are you aiming for in the future?
Mashiro I want to challenge any role, and depending on the work and character, I want to be able to perform a warm play that moves the hearts of the viewers!
<Work Information>
Anime "MUTEKING THE Dancing HERO"
TV Osaka From October 2nd, every Saturday from 1:26 am
TV Aichi From October 2nd, every Saturday from 1:55 midnight
TOKYO MX Every Sunday from 23:30 on October 3rd
BS Nippon Television Every Sunday from October 3rd, 23: 30 ~
AT-X Every Wednesday from 23:30 on October 6th
* Broadcast dates and times are subject to change.
(re-air)
TOKYO MX Every Sunday from 10:30 on October 10th
■ Story
The stage is Neo San Francisco, a free and cheerful seaside town. The kind-hearted Muteki who has moved to this city meets the DJ of "Self-proclaimed DJ" and is transformed into a dancing hero Muteking. Suddenly, Muteki and DJ confront with singing and dancing to save the city from the monsters that appeared, but behind that, an unimaginable human crisis was imminent.
■ Staff
Original: Tatsunoko Production
Character draft: Utomaru (THINKR)
Executive Director: Hiroshi Sasagawa
General Director: Ryosuke Takahashi
Director: Sato Yuzo
Deputy Director / Battle Dance Director: Masafumi Sato
3DCG Director: Yoshihiro Otobe
Series composition: Yuji Kondo
Main character design: Yuichi Takahashi
Character setting / total drawing director: Shinji Setani
Hero Suit Design: Rei Nakahara
Prop design: Tetsuya Kawaishi
Art Director: Jiro Kono
Color design: Megumi Furuya
Cinematographer: Rei Egami (DIGITAL @ SHAFT)
Edited by: Honami Yamagishi (REAL-T)
Sound Supervisor: Ito Qiao
Dance choreography: NAOKI
Music: Takamitsu Shimazaki, Takeshi Masuda
Music Producer: Takamitsu Shimazaki
Music production: Victor Entertainment Smile Company
Production: Tatsunoko Productions / Tezuka Productions
■ Cast
Muteki CV: Kentaro Mashiro
DJ CV: Takuya Eguchi
Theo CV: Satoshi Hino
Aida-san CV: Rie Takahashi
Ann CV: Madoka Yonezawa
Naomi CV: Azusa Tadokoro
Sera CV: Hanako in the Love River
Vivi CV: Kazuyuki Okitsu
Hull CV: Kyoma
Summer CV: Hayato Kimura
Aki CV: Minami Tanaka
Winter CV: Koutaro Nishiyama
Sticking CV: KENN
Matt CV: Yutaka Aoyama
Tommy CV: Takashi Matsuyama
George CV: Wataru Hatano
Owen CV: Kenichi Suzumura
Formula HP:https://muteking.jp/
Official Twitter: @ MUTEKING2021
Official YouTube Channel MUTEKING Official Channel:https://www.youtube.com/channel/UCO1v04r_ObYNV2oGQlkNqug
◾️ Profile
Kentaro Mashiro
Born July 12, 2001. Born in Osaka. Selected as the main character, Muteki, at the "MUTEKING THE Dancing HERO" audition. Debuted as a voice actor in the anime "MUTEKING THE Dancing HERO" broadcast from October 2nd.
Kentaro Mashiro Official Twitter: @Kentaro_Mashiro
.