'There is no reason this webtoon is not made into animation.'
It is a petition posted on the US online petition site'change.org'. As of the 31st, a total of 179,000 people agreed to the petition. 'Disney's Country' The webtoon, which nearly 180,000 people in the United States are asking for animation, is none other than'I Only Level Up' produced by the Korean content company'DMC Media'. It is a story of a hunter who catches a monster,'Sung Jin-woo', while performing a'quest' (a mission that the user must execute in the game), leveling up, and becoming the strongest warrior from a weak body. As this webtoon is serviced on the English-to-American webtoon platform, people who have encountered the webtoon are requesting animation production. The reaction is hot not only in the United States but also in Japan and Europe, which are the powerhouses of manga. Level-up by myself alone has been viewed by up to 1 million people a day since it was serviced on the Kakao Japan comics platform'Piccoma', and in Brazil and Germany, in the first week of publication of the book, Amazon ranked number 1 in comic book sales. Thanks to the sensational response from overseas, DMC Media is pushing for the animation production of the level-up webtoon alone.
Naver also entered the business of making webtoons into animation. Last year, Naver Webtoon produced and released three episodes of'The Tower of God' and'God of High School' and'Noblesse' as an animated series. The three works are Naver Webtoon's'Super Intellectual Property Rights (IP)', which recorded 4.5 billion domestic and international views, 3.8 billion, and 4.6 billion times, respectively. All three films were aired in Korea through Naver's video platform'Series On', and were serviced in the United States, South America, and Europe through the American animation streaming platform'Crunch Roll'. Naver announced plans to animate three webtoons this year as well as'Yumi's Cells','Letter of Love', and'Nano List' and is in progress. Yumi's Cells and Letters of Love are scheduled to be released next year as a series of animations for theaters, and Nano List targeting overseas platforms.
●K-anime over'Pororo' on K webtoons
Until now, domestic animation targets are limited to infants and toddlers, and a business model that makes money with toys has continued for decades. Naturally, the genre was limited to educational materials targeting young and infants such as'Pororo' and'Tayo the Little Bus', and robot mechas.
The popularity of'K Webtoon' is shaking the game in the animation world. In the past, it was a trend to convert webtoon IP into a movie or a drama. The reason is simple. This is because the market for movies and dramas is much larger than for animation. However, as K-animation's business potential has grown, the situation has changed. As webtoons of various genres, such as drama, romance, fantasy, action, and martial arts, are produced as animations, there is an expectation that the limits of the target age group and genre of Korean animation will be broken.
The reason webtoons took off the wind of animation was when K webtoons began to gain great popularity abroad. This is because the fan base of the original webtoon can be absorbed as it is through animation. As Korean webtoons gained popularity in the United States, Japan, and Europe, where the animation market is large, the conditions have been set for the popularity of the original work and animations to be successful overseas. Lee Hee-yoon, leader of Naver Webtoon IP Business Team, said, "Because the original fan wants to feel the feeling from the manga as it is in the animation, the key to the success of animation is how much the webtoon is reproduced in the same way. If properly reproduced, the fan base influx is so great that the original webtoon fan can be said to be a remake animation fan." "The Tower of God, God of High School, and Noblesse, who made good use of the original painting style, also had the effect of influencing fans of the original work. In all three animations, the main age group of original webtoon subscribers, the late teens and 20s and 30s, watched the most."
The movie 'Magic Monster', which was released in September last year, is also a case in which the popularity of the original webtoon has led to a real box office success. The original work is'Sculptures' from Oh Sung-dae's omnibus webtoon'Monster Monster'. Gigabit has gained sensational popularity since 2015 in China, Taiwan, and Hong Kong, and S-Animation, seeing the possibility of success in overseas markets, secured a second copyright and promoted animation production. When it was released in Taiwan in September, it ranked second in the box office after director Christopher Nolan's'Tennet'. It is set to be released in Japan this year.
K-webtoon's recognition is also helpful in overcoming the prejudice of the overseas market that'Korean animation is still inferior to Japan and the US'. PD Jeon Byeong-jin of S-S Anime, who directed the production of the monster killer, said, "Because Korean animations are not well known overseas, there is hardly a'pre-buy' in which importers and distributors see screenplays, directors, and production companies before opening in Korea. . Normally, after opening in Korea, the number of audiences and reactions are checked, and then the import and distribution are decided." "But, thanks to the popularity of the original IP, it is very rare in Asian countries such as Taiwan, Hong Kong, and Japan. I chose Vi."
Another factor that promotes the animation of webtoons is that animation is the genre that can realize webtoons most closely to the original. In the case of live-action webtoons, it is often difficult for actors with excellent acting skills to retain the unique charm of the original character. There is also a barrier that fantasy or apocalypse materials that are set in a virtual world are difficult to make real pictures. Since animation can more easily realize the worldview in webtoons than live-action, it is suitable to meet the eye level of original fans who take'high synchro rate' as the first criterion.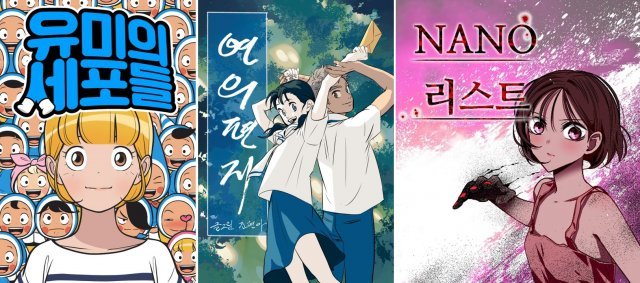 Leader Lee Hee-yoon said, "There is an optimized genre for each webtoon IP. If it is an important criterion for film or dramatization that there is a clear ride and is not a burden to make a live-action film, animation is the most important of the character's'edge', that is, the charm that only that character has. "Noblesse or God of High School, which is attractive for each character setting, is the best case for animation." "Yumi's cells also show why the main character, Yumi, thinks and acts like this from the perspective of the cells in her head. The optimized genre that can save this story 100% is animation."
●IP leads, but manpower is a problem
If you look around the current K-webtoon, there are endless'super IP's that can hit the jackpot when made with animation. However, due to the perception that domestic animation has low profitability, investment is not being made properly. Except for'Content Dinosaur', which produces animations through self-investment like Naver, most of the small and medium-sized production companies, even after securing the secondary copyrights of popular IPs after twists and turns, are often blocked due to investment and delayed production. Molding ingots, too, couldn't find a place to invest, so in March 2015, they signed a copyright contract and were able to open it only five years later.
"The production period is at least two years," said Kim Gwang-hoe, vice president of animation production company Dalgona Entertainment. The reason why animations are presented for each director or production company reaches 5-10 years for each director or production company is because the time was delayed after running in all directions to receive investment. Even director Oh Seong-yoon of'Hen Out of the Madang' said that it took seven years due to investment issues before the next work'Under Dog' was released."
If no investment is received, the production company has no choice but to turn to animations aimed at infants and toddlers with guaranteed profitability. The road to being produced by veterans with experience in producing animation targeting adults is blocked. It is a vicious circle in which money does not circulate because the market is narrow, and human resources to transfer know-how are not trained. The manager of a domestic webtoon/web novel company who requested anonymity said, "The production technology of domestic animation is not lower than that of overseas. The problem is that most of the domestic production companies are focused on children's animation, so there is a tremendous shortage of human resources capable of planning and directing adult-targeted animations. Korea has enough, but there will be no production crew capable of planning and directing the same as the blade of an extinction." After its release in Japan in October last year, the Japanese animation "Sword of Demons: Infinite Train", based on the manga of the same name, reached No. 1 in Japanese theater box office revenue by collecting more than 26 million viewers. It was recently released in Korea and is running on a box office road.
In the field, there is a strong voice that in order to properly develop K-animation, an effective support plan that will increase the competency of the relevant manpower must be presented. It is said that the planning ability and directing output that can properly utilize the popular source IP should be supported. It is pointed out that the support should be made in a way that allows you to experience the entire process of animation production, from pre-production of planning, scenario, and storyboarding to post production such as editing and dubbing, beyond the formal support that pays part of the production cost.
PD Jeon Byung-jin said, "Currently, the government's support plan is a form of partial support for production costs. Even with government support, projects are often overturned due to the inability to attract additional investment from start-up investment companies. It is time to strive to produce a manpower who has accumulated know-how through the establishment of a public animation studio that can accomplish the project from start to finish."
Reporter Kim Jae-hee go to reporter page [email protected]>
Close window
You recommended the article
"K-webtoon, please make it with anime" Disney-manga's country also fell in love
Best Recommended News