"Karakai Jouzu no Takagi-san" it is one of the most adorable anime that one can come across 'otaku' in their day-to-day, and I am very glad to have seen it from beginning to end before the premiere of its season 3. Keeping watching the innocence of this anime is something that manages to give pure peace and fun like few others, and now we finally have the one that is about the final release date for the next season of anime content.
Karakai Jouzu no Takagi-san premieres its third anime season in the first week of January 2022
That said, I leave you next with the SugoiLITE tweet, who has previewed when the new episodes of "Karakai Jouzu no Takagi-san" start: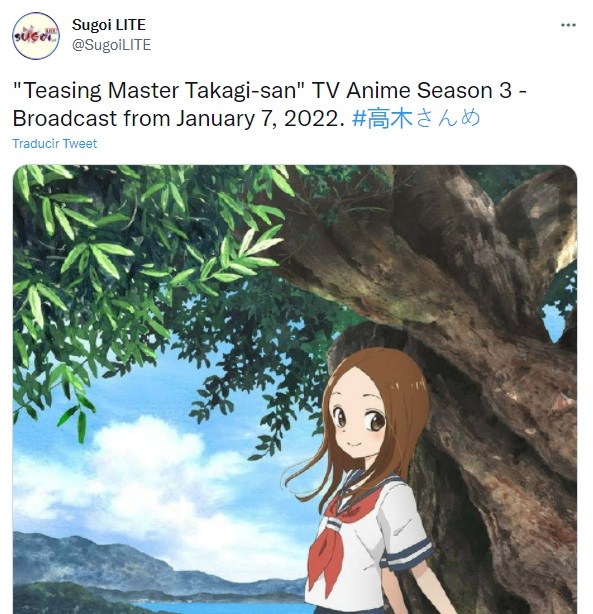 In case anyone has problems with the image or its information, I leave you with the following details:
La temporada 3 de Karakai Jouzu no Takagi-san premieres from January 7, 2022.
At the moment there is no confirmation about where will Karakai Jouzu no Takagi-san season 3 air in the West. The first season saw the light on Crunchyroll while the second did the same on Netflix.
In addition to the third season, It was also announced that an anime movie would be released in 2022. From this, however, there has been no new information on this occasion.
Having said all this, I will remind you to conclude that another work of the author of "Karakai Jouzu no Takagi-san" He confirmed weeks ago that he would also have his own adaptation under the anime format. In the shared article you will find all the details about it.
Sinopsis de Karakai Jouzu no Takagi-san
"Nishikata's day to day could not be more tedious, his classmate, Takagi, always manages to annoy him by playing pranks on him at the slightest opportunity. Contrary to what one might think, that does not discourage Nishikata, moreover, is totally determined to give it back to her and make her die of shame one day. However, experience on the subject keeps Takagi always one step ahead. It seems that she loves to see him blush. and he despairs when he falls for his jokes, but is that the real reason? "