KILL BILL. VOLUMEN 1
Original title: Kill Bill: Volume 1
Year: 2003
Duration: 110 minutes
Country: USA
Direction: Quentin Tarantino
Script: Quentin Tarantino
Photography: Robert Richardson
Distribution: Uma Thurman, Lucy Liu, Daryl Hannah, Vivica A. Fox, Sonny Chiba, Chiaki Kuriyama, Michael Bowen, Julie Dreyfus, Michael Parks, David Carradine y Michael Madsen
Producer: Miramax, Band Apart
Gender: Action / Thriller
Synopsis: On her wedding day, a professional assassin is attacked by some members of her own gang, who obey the orders of Bill, the head of the criminal organization. He survives the attack, but remains in a coma. Four years later she wakes up dominated by a great desire for revenge. (FilmAffinity)
'Kill Bill' It is a group of films that they divide between those who are fascinated and those who are not. I've already said it on occasion, I'm not the biggest fan of Quentin Tarantino, but I do have to admit that in this film he introduced an aesthetic of which I am a huge fan.
As a movie it is very possible that it is the most silly of his entire career. A bride miraculously survives a massacre at her wedding rehearsal and makes a list of people to kill. From there, 5 chapters begin in which Uma Thurman one by one he kills these people on his list.
Unlike on other occasions, the script loses strength in favor of the most important part of this story: aesthetics. Especially with this first volume of 'Kill Bill' highlights this aesthetic part far above the story itself. All the Japanese iconography that introduces Tarantino it works like a shot. The catanas, the language of manga and anime, the passage in animation, the winks to Japanese films, etc. All this introduces novel elements that add a new layer to the cinema closest to the western that it has always done. Tarantino.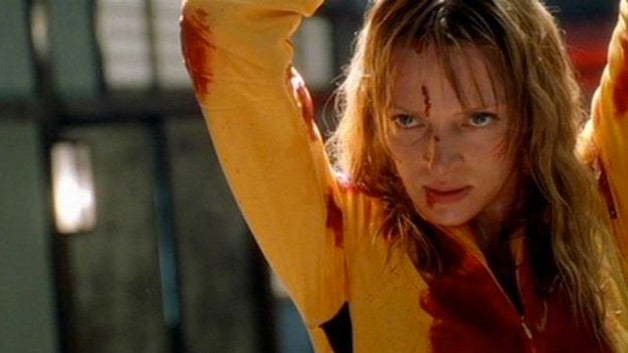 Narratively it is the easiest movie of Tarantino. It is quick to consume, something that the rest of his films do not achieve, since they require more attention from the viewer. This time it is more of a basic action film with scenes that have been very elaborated from the aesthetic side, but without ceasing to be action.
'Kill Bill' it leaves aside the cinematographic language and is very close to the world of the video game. It goes through levels until everyone is charged. This works well, what doesn't work so well is the musical selection, and the same thing happens with its sequel. Agree that it is the teacher's decision which music to incorporate, but there are many moments that take me out of context due to strange choices.
If you like Tarantino, it will like you 'Kill Bill. volumen 1'. If you are a fan of anime and video games, you will enjoy this film like a dwarf, the strangest of all the filmography of Tarantino.
The best: The aesthetic part and the mixture of anime with the cinema of Tarantino.
Worst: The musical selection.