Animation 'The First Slam Dunk' launch trailer still cut. Provided by NEWThe new film 'The First Slam Dunk' (original script, director Takehiko Inoue) of the legendary bestseller 'Slam Dunk', which has exceeded 120 million copies in cumulative circulation, has confirmed its domestic release in January 2023.
The poster, which was released along with the confirmation of release, catches the eye with images that seem to directly depict the faces of five people from Buksan High School, including Kang Baek-ho, Song Tae-seop, Jeong Dae-man, Seo Tae-woong, and Chae Chi-soo.
'What about being a troublemaker (Song Tae-seop)' 'What about being the former middle school MVP (Jung Dae-man)' 'What about being my center (Seo Tae-woong)' 'What about being a novice (Kang Baek-ho)' 'What about a gorilla ( Chae Chi-soo)', a copy suitable for each character conveys memories and emotions to fans.
The launching trailer released together contains the sound of the second hand ticking and the Buksan High School basketball team playing through the movie logo, raising questions about what story will be covered in this movie. In the midst of this, it ends with a copy of '2023.01 game start', announcing a full-fledged domestic release.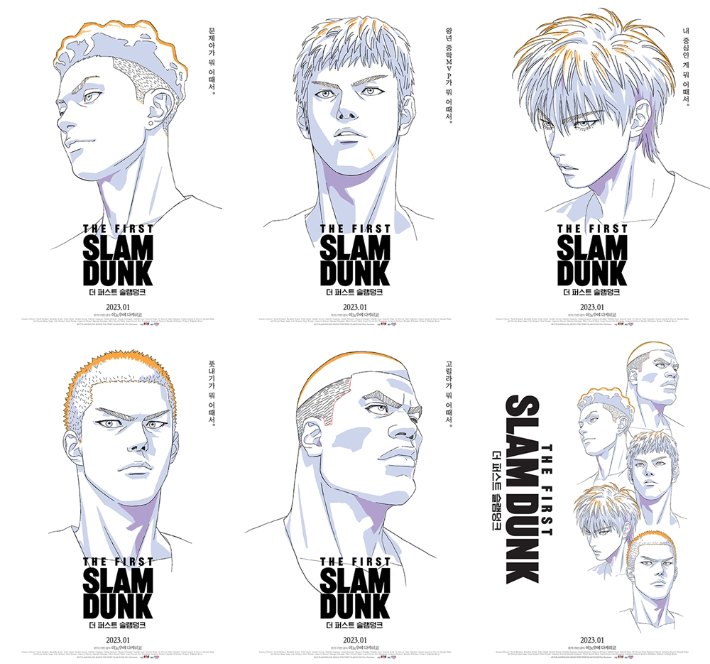 Animation 'The First Slam Dunk' launch character poster. Provided by NEWThe cartoon 'Slam Dunk', which was serialized in 'Weekly Shonen Jump' (Shueisha) from 1990 to 1996, is a cartoon depicting the growth story of Kang Baek-ho, a rookie who has never played basketball, experiencing in the basketball team of Buksan High School. The depiction of the sweaty game and the figures who bet their youth on basketball evoke passionate emotion and empathy and are loved all over the world.
'Slam Dunk' surpassed 15 million copies of the series in Korea, from the complete version in 2001 to the reorganized version in 2018, and the total number of episodes of the TV animation 'Slam Dunk' on global OTT (online video service) Netflix last September was updated and ranked at the top of the popularity ranking, clearly showing his appearance as an 'all-time legend'.
In Japan, where the movie is scheduled to be released on December 3, pre-order tickets sold at convenience stores are sold out in no time, and additional sales are decided, foretelling a box office blast.