On March 18th, Kuaikan Manga and Happy Valley Group held a press conference in Happy Valley Park, Beijing. The two parties announced that they have reached a five-year strategic cooperation. In the future, it will be launched in six latitudes, including the spokesperson of the second yuan, the construction of the national comic IP scene, and the construction of the scenic spot IP. In-depth cooperation.
It is reported that with the conclusion of the strategic partnership with Happy Valley, Kuaikan will accelerate the pace of the original Guoman IP out of the circle. In the future, through IP offline display, scene restoration, member joint promotion, peripheral sales, etc., it will provide users with offline check-in and experience opportunities. At the same time, it will also provide richer entertainment elements for the Happy Valley theme park and expand the country of Happy Valley. Comic cultural connotations to enhance tourists' experience of visiting the park.
Guoman IP+ amusement park, a new form of entertainment for young people
"As the influence of Guoman increases, Chinese comics IP is expanding to the offline market, and its IP value will be further released." Talking about this cooperation, Kuaikan Comics founder Chen Anni said.
According to the "Research Report on China's Animation Industry in 2020" released by iResearch, China's pan-two-dimensional users will exceed 400 million in 2020, and the output value of China's animation industry continues to hit new highs. As the source of China's animation industry, online comics have maintained a growth rate of more than 20% for many years. The market size is expected to reach 4.5 billion in 2021.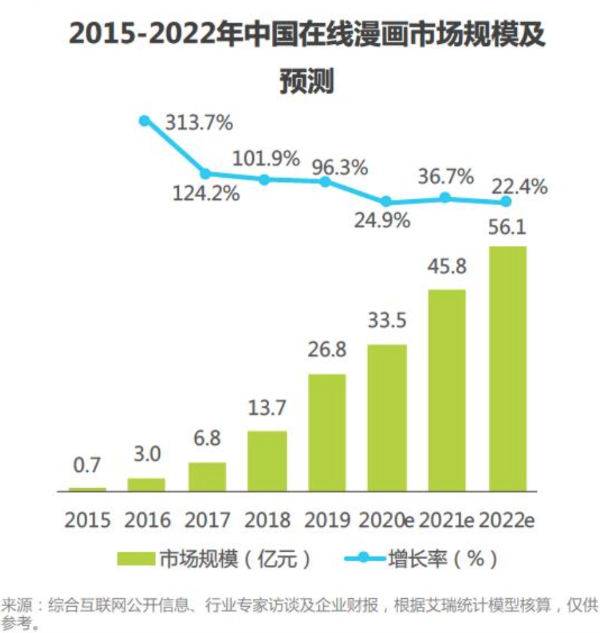 Based on the development history of Guoman, the Chinese comics that were under attack by Japan, the United States, and South Korea in the past have finally made their own path of development today. Quickly read the comics to become the most typical representative.
Since its launch in 2014, Kuaikan Manga has always adhered to the road of independent development of original manga, and cultivated and promoted Chinese original manga authors and works. According to the latest data, Kuaikan has more than 8,000 works on the platform, and has gathered more than 80% of the head comic IPs on the entire network, including "Guwei Nanting", "Take My Brother Quickly", "Super Cube", "Again "With You", "Plastic Surgery Game" and other boutique original national comic IPs are all from Kuaikan Comics.
Behind the explosion of Guoman's IP is the interest and habits of young people. As the most active online entertainment platform for young people, Kuaikan Manga has more than 200 million users and more than 40 million monthly active users, of which more than half are post-00s. They are consuming Guoman IP on the fast-watching platform, and at the same time creating a lot of pan-two-dimensional content.
What is proud of is that Guoman has not only captured the hearts of Chinese young people, but has also been favored by overseas readers. In 2020, Kuaikan Manga will go to the sea through some of its works, running through the global distribution model of Chinese manga. Last year, Kuaikan exported 101 works overseas, with a turnover of nearly 100 million yuan. Chinese comics were translated into more than 11 languages, affecting more than 100 million overseas users.
These characteristics have also attracted the attention of Happy Valley Group. Happy Valley is an innovative cultural tourism industry development platform under the OCT Group. So far, it has been operating in 8 cities including Beijing, Shanghai and Chengdu. 2 cities are under construction, and it has received more than 200 million tourists.
The cooperation between Happy Valley and Kuaikan has formed a golden combination of "Guoman IP + Amusement Park". This will greatly enhance the competitiveness of China's local amusement parks and attract more and more young people to play.
Soon, in the major Happy Valley parks in China, there will be more and more people watching comics IP. These parks combined with comic IP will surely become a new generation of photo-taking mecca.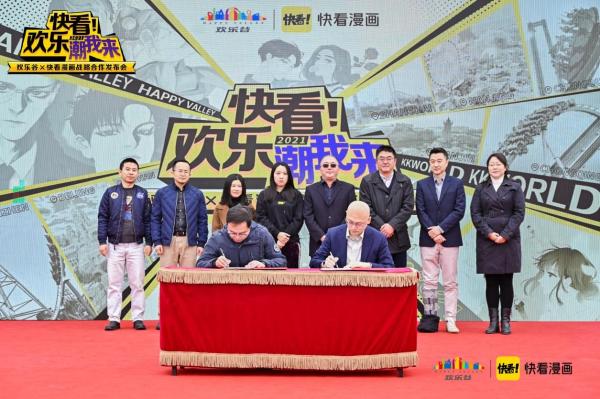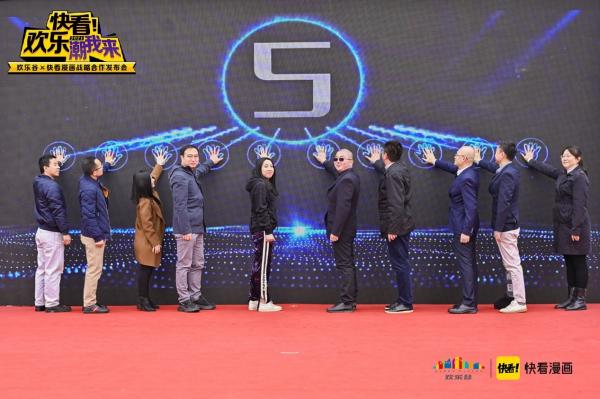 Conference scene
On the same day, Annie Chen (founder and CEO of Kuaikan Manga), Li Kehui (Secretary of the Party Committee and General Manager of Happy Valley Group), Li Runchao (co-founder of Kuaikan Manga), Zhao Xiaobing (Executive Deputy General Manager of Happy Valley Group, General Manager of Beijing Happy Valley) Manager) and others attended the press conference. Representatives of both parties participated in the on-site lighting ceremony, announcing the official start of cooperation.

252
.