After we reported about the disc date of the "Made in Abyss" film trilogy three weeks ago, the design of the limited Collector's Edition and the extras have now been revealed.
Collector's Edition will be released in April 2021
The film "Made in Abyss: Souls of Darkness", which continues the series "Made in Abyss", is expected to be released on April 30, 2021 together with the first two films, which summarize the previous events of the anime, as a Limited Collector's Edition on DVD and Blu-ray in stores. As an extra there is the mini-series "Marulk's Everyday" and a special booklet.
Like the series, all films were produced under the direction of director Masayuki Kojima in the Kinema Citrus studio. The compilation movies started in Japanese cinemas in January 2019, followed by the sequel film in January 2020. Another sequel is currently in the works.
LEONINE Anime launched the 13-part anime series, which ran in Japan in the summer of 2017, with German and Japanese voice output on DVD and Blu-ray. The original manga by Akihito Tsukushi is published in German by Altraverse.
Pre-order at Amazon:
>> Blu-ray
>> DVD
Design of the box: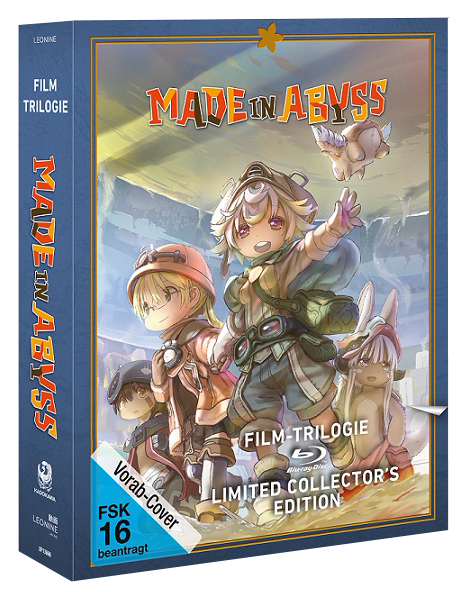 Plot:
On their expedition, Riko and Reg have already penetrated into the fifth layer of depth and a mysterious being named Nanachi can rescue them from a predicament at the last second. The two convince them to join them and accompany them on their descent. While Nanachi's knowledge of the deeper layers of the group comes in handy, a reunion with the brutal Lord Bondrewd also seems inevitable.
He watches over the only access to the sixth layer of depth in Idofront and so the group must face their adversary in battle. Because only if they succeed in eliminating Bondrewd can they pass the altar to the sixth layer and get a little closer to their expedition destination.
© Akihito Tsukushi / Takeshobo / Made in Abyss "Dawn of the Deep Soul" Production Committee
© 2017 Akihito Tsukushi / Takeshobo / Made in Abyss Production Committee