Mini Anime "Puchimiku ♪ D4DJ Petit Mix" Official Website:https://anime.d4dj-pj.com/petit-mix/
Mini-animation "Puchimiku ♪ D4DJ Petit Mix" Episode 10 pre-cut release!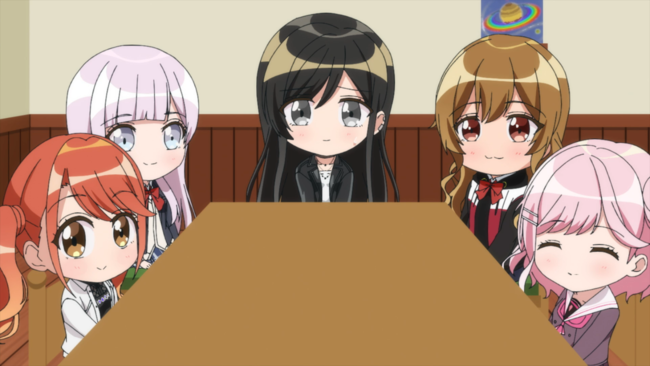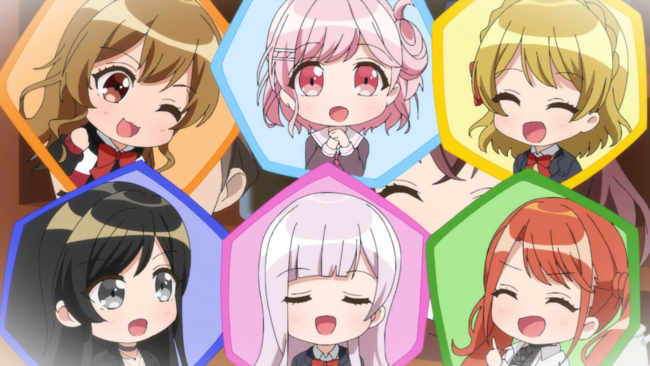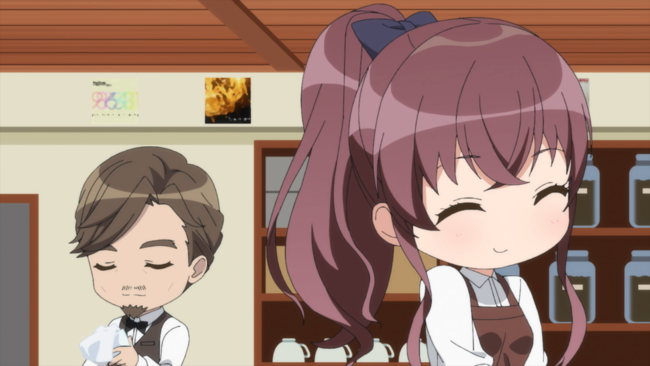 ◆ Episode 10 "Singing Voice ♥ Secret Meeting" Synopsis
"Exchange information to make a good voice ♪"
The people who gathered at Rinku's call
The items I brought have something in common.
"Leave it to me!" Airi also participated there …
◆ Broadcast information
Every Friday from 25:00
Broadcasting from the first episode on TOKYO MX from April 2nd (Friday).
◆ Delivery information
Every Friday from 22:00
The latest episode will be distributed in the program "# D4DJ_DJTIME", which will be a live distribution of DJ play by the cast of D4DJ!
YouTube "D4 DJ Channel":https://www.youtube.com/channel/UCNWWdKniJyzQA3RiJ5LMoVw
Broadcast / delivery details:https://anime.d4dj-pj.com/news/post-9
◆ Staff cast information
Director / Series composition: Seiya Miyajima
Animation production: DMM.futureworks / Dove Toon Studio
Original: Bushiroad
Planning and Executive Producer: Takaaki Kidani
General Producer: Masahiro Nakayama
Story draft: Ko Nakamura
Character draft: Yache
Assistant Supervision: Nakanishi Jishu
Animation character design: Sawako Yuno
Cinematographer: Tetsuya Nishimura (Studio L)
Art director: Noriko Tsutsui (Studio Aqua)
Sound Director: Naofumi Jimbo
Animation production cooperation: GK Arche
【Happy Around!】
Rinku Aimoto: Yuka Nishio
Masahide Akashi: Karin Kagami
Onaruto Muni: Haruka Mimura
Togetsu Rei: Shizaki Huayin
【Peaky P-key】
Kyoko Yamate: Aimi
Inuyori Nobu: Miyu Takagi
Sasako, Jennifer, Yuka: Moeka Koizumi
Shimizu Esora: Reo Kurachi
【Photon Maiden】
Saki Izumo: Risa Tsumugi
Maiki Niijima: Ami Maeshima
Hanamaki Otowa: Haruki Iwata
Fukushima Noah: Hinata Sato
【Merm4id】
Rika Seto: Natsumi Hirajima
Mizushima Jasmine: Okada Dream
Saori Hidaka: Himari Hazuki
Matsuyama Dahlia: Ai Negishi
【Sin Dance Music】
Tsubaki Aoyagi: Rihona Kato
Tsukimiyama Nagisa: Sae Otsuka
Scarlet Yano: Haruna Momono
Aoi Miyake: Tsunko
【Lyrical Lily】
Mimu Sakurada: Hazuki Tanda
Haruna Kasuga: Amane Shindo
Swan walnut: Ruka Fukagawa
Miiko Takeshita: Yuzuki Watase
Airi Amano: Nana Mizuki
Hime Kam Sano: Raychell
Expectations, revolutions, unknowns, challenges, preparedness, adventures.
What is the legendary festival that the six DJ units are aiming for with each feeling in mind …!?
Always happy! "Happy Around!"
Stoic champion! "Peaky P-key"
The light that colors the starry sky! "Photon Maiden"
Life is for fun! "Merm4id"
It's their story to weave tonight! "Rondo"
No need to explain loveliness! "Lyrical Lily"
A girls DJ comedy where you can meet their unseen side (?) Is about to begin!
Media mix content "D4DJ" with the theme of "DJ"!
With the theme of "connecting", we will deliver in various forms such as animation, games, live performances by voice actors.
A variety of music is being released, including original songs by 24 characters from 6 units and remix covers of famous songs.
Connect a number of famous songs of the past, connect people regardless of gender and age, and connect characters to the real …
Now, let's connect to the new world that starts with D!
D4DJ Official Website:https://d4dj-pj.com/
D4DJ Official Twitter:https://twitter.com/D4DJ_pj
D4DJ Official Instagram:https://www.instagram.com/d4dj_official/
D4DJ Official YouTube Channel:https://www.youtube.com/channel/UCNWWdKniJyzQA3RiJ5LMoVw
* Please include the following when posting.
【©bushiroad All Rights Reserved.】
.