Below is the press release published on the publisher's website:
THIS IS THE STORY OF HOW I BECAME THE GREATEST OF ALL HEROES!
Finally the kids will be able to sleep late and laze all day… except the students of the most famous School for Heroes: the Yuuei high school! Izuku and the others are headed to the Summer Camp, where the Wild Wild Pussycat are waiting for them to challenge them and continue their intense training. The road to becoming a true super-hero is difficult and full of obstacles, and it is of primary importance that the students of 1-A become stronger to be able to face the Union of Villain, which is enlisting more and more enemies in its ranks. powerful. Evil never rests, new villains are emerging from the shadows led by the fierce All for One!
Technical specifications
BLU-RAY
VIDEO: MPEG4 – AVC / 1080P / 23.98FPS / 1.78: 1, 625 minutes (Excluding Extras)
AUDIO: Italiano dts-hd master audio 2.0, Giapponese dts-hd master audio 2.0
SUBTITLES: Italian
DVD
VIDEO: MPEG2 / color / 16: 9, 625 minutes (Extras excluded)
AUDIO: Italian dts-hd master audio 2.0, Japanese dolby digital 2.0
SUBTITLES: Italian
Extra contents:
BOOKLET 32 PAGES
TRAILERS ORIGINALI
CREDITS OF HEAD AND TAIL WITHOUT CREDITS
D-TRAILERS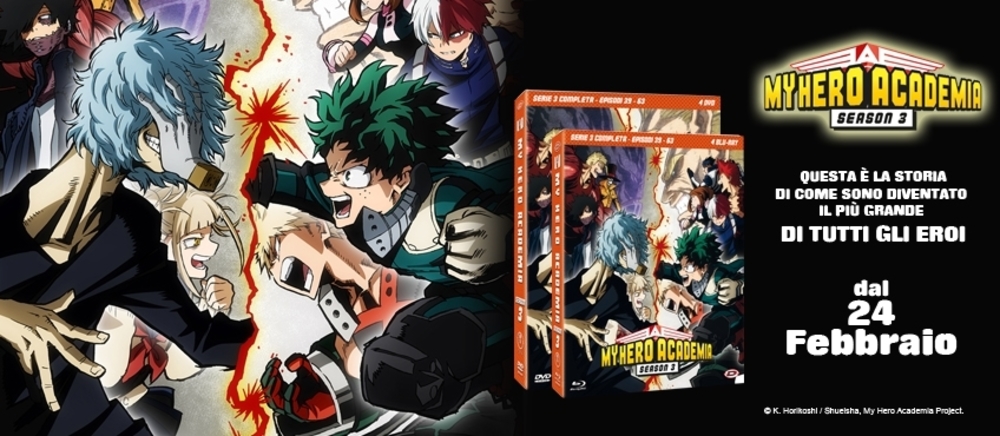 Cast:
Izuku Midoriya: Simone Lupinacci
All MIght: Lorenzo Scattorin
Katsuki Bakugō: Federico Viola
Ochaco Uraraka: Valentina Pallavicino
Tenya Iida: Andrea Oldani
Shōto Todoroki: Alessandro Germano
Source Consulted:
Dynit