November 3 is cosplayer's day. Arina Poluyanova, correspondent for MK in Tula, spoke with Margarita Lapshenkova, known as Mirumi-chan.
– I remember the times when you could get a slap in the face for watching "Chinese cartoons", and a couple of dozen bruises for cosplay. Rita, have you caught these times?
– Unfortunately, yes, but I have not personally encountered this. For the badges with your favorite characters on the bag, ridicule sometimes flew in, but this was tolerable. In general, my hobby for cosplay began in the 12th year, when I got to my first anime festival in TulSU Yuki no Odori. About a year later I made the first image, but he did not really relate to cosplay. It was sweet-lolita street fashion. I made original images for festivals. But she became a cosplayer in the conventional sense of the year in the 19th.
– For most, cosplay is a common dressing up? What is your opinion on this matter?
– For me, cosplay is more than just dressing up. This is an opportunity to feel like a beloved character, bring it to life and see how this or that 2D character would look in the real world. It is also a chance to try on new roles and images. You can discover traits in yourself that you did not even know about until you tried on a suit. Cosplay helps you find something new in yourself. Something that you admire about the characters turns out to be in you.
– Did you make new acquaintances thanks to this hobby?
– Yes, and there are quite a few of them. These are not only cosplayers, but photographers, organizers of festivals, videographers and many others. You can't list all of them! We even have our own team. Even two. In them I take part in preparing for large projects. One is about Japanese mythology, the other is about a visual novel.
– Do you stage scenes? I saw a photo from the stage. How long does it take to speak once?
– We staged two scenes with the team. Personally, I even took part in the fashion show! Time … It all depends on what to perform with. The show is a little simpler in this regard; come up with going on stage, think over static poses in order to show the costume from the best side and reveal the character of the character (it is also important to convey it from the stage). Make a soundtrack and rehearse at least a couple of times. This can take from a few hours to a couple of days.
With the scenes, everything is more complicated. It all starts with writing a script. Then we think over the scenery. We make, if necessary. You also need to record the lines of each character in order to make a sound track in the future, under which the performance will take place.
It is very inconvenient to speak with microphones; moreover, with a large number of speakers in one scene, the organizers cannot provide everyone with a microphone. Therefore, the presence of a sound range is their main requirement. So it can take months to prepare a performance of several minutes. And this does not include the preparation of the costumes.
– I saw on your Instagram that you were a bunny from Zootopia. How did you come up with the idea to try on the image of this character? A very unconventional choice. And Nanami from "Very Nice to God" is not often seen on the street.
– The idea with the bunny came very spontaneously. I just saw an advertisement for the sale of a costume from a cosplayer friend and decided to buy it. Then I found a suitable wig and, to my surprise, the look suited me very much. And I liked the character of the character. As a result, everything went well with this cosplay – I even won a prize at the festival in Kaluga. I was asked to do Nanami just for the scene.
– If it's not a secret, how expensive is cosplay?
– Cosplay is quite an expensive hobby! The simplest image can take several thousand. Wigs are not the most significant part of these costs. For example, Sakura's costume cost me 5,000 rubles.
– Do you make the costumes yourself?
– Unfortunately, I don't sew the costumes myself. Either I order from a seamstress, or outbid at special flea markets. But I make simple things like a sun skirt, or some small details, accessories myself.
– How long does it take to create one image?
– The process is not fast. For example, I can't finish Cyrilla's costume from The Witcher for over a year, but there are costumes that take only a few months.
– What character do you want to transform over and over again?
– This is probably Sakura Haruno from the anime "Naruto". I like her character and looks. I wanted to cosplay her for a long time. Only recently has she made her plans a reality. I want to make some more of Sakura's costumes: Anbu uniform and repeat her look from Boruto.
– What images are in the plans?
– There are plans to complete Ciri from The Witcher and Michiru from Sailor Moon. Perhaps even Kushin and Hinata. There are more ideas, but these are images that I will definitely do.
What about the curiosities at the festivals?
– There was one funny situation in 2014 at the Yuki no Odori festival. One of the hosts was a dragon. And for some reason, his suit was not finished in time! I had to finish it right on the day of the festival. I sewed the scales directly onto the T-shirt of the presenter, in parallel, two more glued their nails, sewed on the wings. The beginning of the festival was then delayed by about an hour.
How do people feel about your hobby?
On the street, people react positively, some ask to be photographed. But colleagues at work are ambiguous. Someone admires, and someone says that at my age it would be time to stop doing such nonsense, and in general, it's time to have children.
Earlier "MK in Tula" wrote about what surprised the 10th Tula anime festival Yuki no Odori.
Cosplay Alastor from "Hotel Hazbin" or Reincarnation of the Serpent
See the related photo gallery
How was the 10th Tula anime festival Yuki no Odori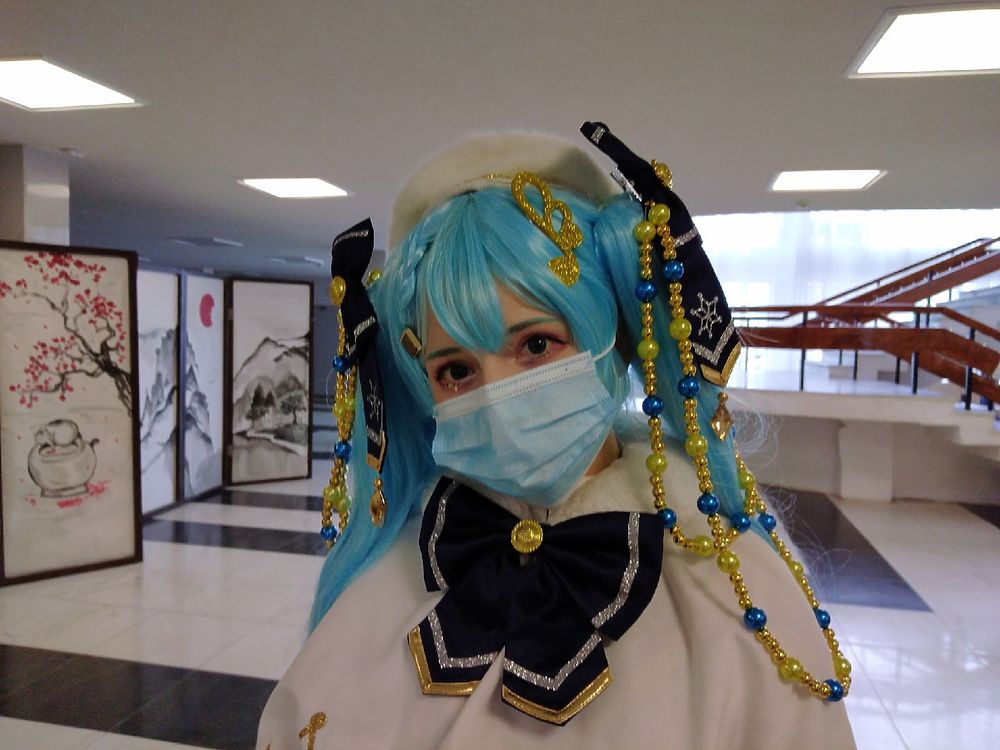 See the related photo gallery
More interesting things here.
.