ANY

---
Immediate withdrawal in store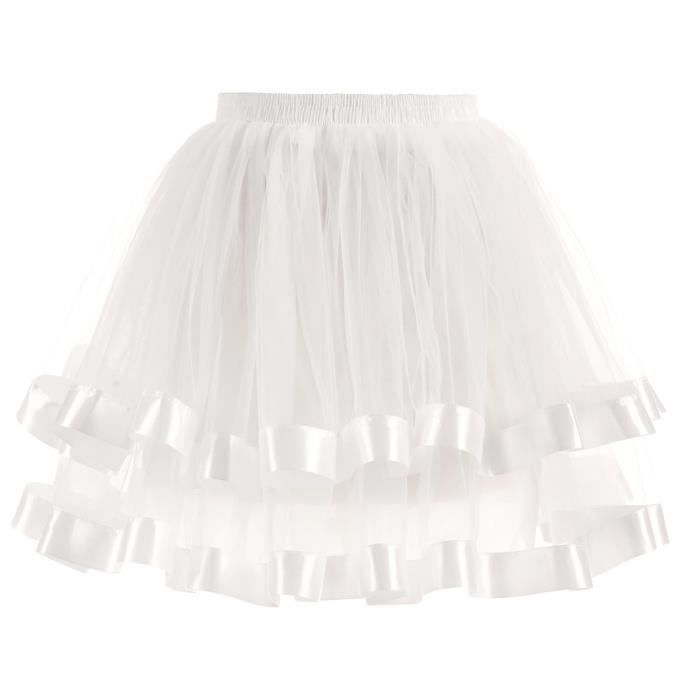 Skirt Women Petticoat Under Swing Tutu Princess Hippy Cosplay Cute New White
Sold and shipped by folamadak
877 sales
these last 12 months

3,2/5
8 reviews with a maximum score of 5/5
To close
Delivered to you

from 08/12
Take advantage of the advantages of our Cdiscount card:
Adjust in 3, 5 or 10 times
Also find this product on CdiscountPro
Partner of professionals
Are you a business or an administration? Shop on CdiscountPro and benefit from offers and services tailored to your needs:
Cash payment by bank transfer and credit card.
Payment by bank transfer deferred at 30 days or by administrative mandate at 45 days.
Exclusive offers for professionals in the hotel and catering industry, crafts, medicine and communities.
Sales team dedicated to 0801 820 054 (free call).
Customized quote and quotes available within 48 hours.
Dropshipping solution: without worrying about stocks and logistics.
To close
CDISCOUNT customers also appreciated


Sponsored products


Need help ? A specialist answers all your questions

Monday to Friday 9 a.m. to 7 p.m.

Weekends and holidays from 9 a.m. to 6 p.m.

Monday to Friday 9 a.m. to 7 p.m.

Saturday 9 a.m. to 6 p.m.


Product Presentation: Skirt Women Petticoat Under Swing Tutu Princess Hippy Cosplay Cute New White
Women Petticoat Petticoat Swing Tutu Skirt Princess Hippy Cosplay Cute New
Please check the size chart before ordering. If you are not sure about the size, please message us.
Characteristics:
1.It is made of high quality material, durable enough for your daily wearing
2.Style and fashion make you more attractive
3.Great for party, everyday, beach, I'm sure you will like it!
Product information
Season: Four seasons
Gender: Women Occasion: Casual, Party, Beach
Material: Polyester
Pattern Type: None
Style: Casual, Sexy
Dress Length: Above Knee, Mini
Fit: Fits true to size
How to wash: Hand wash in cold water, Hanging or Line Dry
What you get: 1 PC Women Skirt Size
Length
Cut
M
46cm / 18.11 "
66-110cm / 25.98 " – 43.31 "
XL
47cm / 18.50 "
74-130cm / 29.13 " – 51.18 "
Size: M
Length: 46cm / 18.11 "
Waist: 66-110cm / 25.98 " -43.31 "
Size: XL
Length: 47cm / 18.50 "
Waist: 74-130cm / 29.13 " – 51.18 "
The package is shipped from China and should be delivered within 10-20 days
Skirt Women Petticoat Under Swing Tutu Princess Hippy Cosplay Cute New White
General product information
Product Name
Women Petticoat Under-Swing Princess Tutu Skirt
Category
SKIRT
General
Mark
ANY
Colors)
Blanc
Sponsored products


Customer review: skirt women petticoat under swing tutu princess hippy cosplay cute new white
This product is still not rated.Be the first !

You can ask for example:
– Is this product suitable for regular use?
– Is this product easy to use?
– What are the dimensions of this product?
Inspired by your visits:


Recommended with this product:


Legal Notice
° On reported products, Sales period from June 30 to July 27, 2021.
** Maximum reduction observed on a selection of items.
(#) See terms of payment in 4 installments in article 4 of our General Conditions of Sale. Subject to acceptance by Cdiscount or FLOA Bank
(1) In mainland France, see conditions on the page "Delivery Methods and Costs" accessible at the bottom of the page
(2) Legal Guarantee of Conformity from which you benefit by virtue of articles L 217-4 et seq. Of the Consumer Code
A product to recycle? Discover the collection points near you
(!) In application of the law of January 6, 1978 relating to data processing, files and freedoms, you have the rights of opposition, access and rectification of data concerning you. You can exercise these rights by post sent to: Cdiscount.com / SGPN – Service Clients désabonnement – BP 90200 – 93472 Neuilly Sur Marne. You can unsubscribe or modify your subscriptions to Cdiscount newsletters by going directly to your personalized pages in the Customer Area and by clicking on the "My newsletters" link or by post to the above-mentioned address. Unsubscribe requests submitted to Cdiscount will be taken into account within a maximum of 24 hours, except for requests sent by post, which require a period of 8 days .;
Good deals
.