A new card battle x animated TV anime "Build Divide-# 000000 (Code Black)-" that intersects with trading card games, which will start broadcasting in October.
Prior to the start of broadcasting, in the special program "Build Divide -# LIVE- (Code Live)" PART2
NS2Bullet PV、Blu-ray&DVD・Episode 1informationHas been lifted!
The opening theme "BANG !!!" by EGOIST using the second PV will be written by ryo (supercell) and composed and arranged by Giga.
The first Blu-ray & DVD will be released on January 26, 2022.
Please look forward to the follow-up report of this work, which will be getting more and more exciting for the broadcast from October 9th!
The second PV of the TV anime "Build Divide -# 000000-"
The second 弾PV use 楽曲:
Opening theme "BANG !!!" EGOIST
Lyrics:ryo (supercell)/Composer: Giga/Arrangement: Giga
All three volumes of the TV anime "Bill Divide -# 000000 (Code Black)-" will be released.
・ Volume 1
January 26, 2022 (water)
Number of recorded episodes: 1 to 4 episodes
Blu-ray Limited Edition ¥ 13,000 (excluding tax) ANZX-15401 ~ 2
DVD Limited Edition ¥ 11,000 (excluding tax) ANZB-15401 ~ 2
Full production limited edition benefits
・ Character design ・ Jacket drawn by Shinpei Tomooka
・ "Build Divide TCG" limited promotion card x 2
1. 1. "Bloom the soul bettor" 1 parallel card (different illustrations, ultra rare specifications)
2.1 new command card (rare specification)
* For new command cards, if you prepare all 3 volumes of the package, 4 cards will be prepared.
·Special booklet
・ Original soundtrack CD1
・ Audio commentary
・PV・CM collection
Chapter 1"Wish Upon a Star"Synopsis
The city "Shin-Kyoto" with AR infrastructure was governed by the existence called "King", and it was an unreasonable world where all superiority and inferiority were determined by the strength of the build divide. One day, Teruto Kurabe, who was wandering around the city with bread in one hand, helps a girl, Sakura Ryo, who was being chased by a thug, with the power of a card. Seeing its power, Sakurara expects Teruto's build divide ability to be considerable, and offers a battle on the spot. She was looking for a strong man who could win the "rebuild battle" to get the right to challenge the king. However, Teruto has lost most of his memory …!?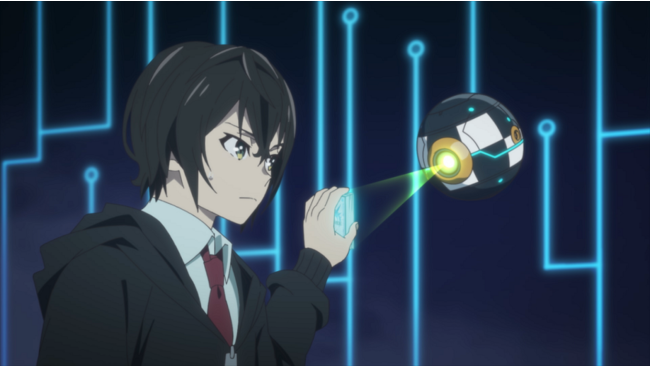 TV Anime "Bill Divide-# 000000 (Code Black)-"
From 24:30 on Saturday, October 9, 2021, the first period will be broadcast sequentially at each station nationwide!
[Broadcasting station information]
TOKYO MX / Gunma TV / Tochigi TV / BS11 / Mainichi Broadcasting / Chukyo TV / Sapporo TV / Fukuoka Broadcasting / Miyagi TV / China Broadcasting / TV Shizuoka / Sanyo Broadcasting / TV Niigata
[Broadcast information]
1st season: October 9, 2021 (Sat) 24:30~ON AIR
2nd season: April 2022 ON AIR
[Build Divide Trading Card Game]
Game overview and features
-By summoning the "Ace" unit that will be your partner, you can unlock your army's territory "Territory".
Achieve unpredictable game development that dramatically strengthens your army.
・ In conjunction with the anime story, the content will deepen your immersive feeling in the game.
-The product structure is easy to pick up not only for active players, but also for players who have left TCG once and new players who are interested in animation.
・ Beautiful card art by a well-known artist, which is unique to "TCG made by an animation production company", is scheduled to appear.
・ We plan to hold a wide range of events for core and light, such as competitions and fan meetings.
Release information
★202110moon8Will be released on a daily basis
The first booster pack
"Endless War Overture" (92 types in total + 121 types in parallel)
-Price: 1 pack 330 yen (tax included) / 7 cards (card size: 63 mm x 88 mm)
The first starting deck
"Witch in jet black" (14 types each in parallel)
-Price: 1 deck 1,000 yen (tax included) / 41 sheets
The second starting deck
"Beast King Furious with Guren" (14 types each in parallel)
-Price: 1 deck 1,000 yen (tax included) / 41 sheets
★ 2021 12moon3Will be released on a daily basis
2nd booster pack
"Open battle end, crossing fate" (80 types in total + 81 types in parallel)
-Price: 1 pack 330 yen (tax included) / 7 pieces
1st tie-up booster information
★1stThe tie-up work isTVAnimeThis year marks the 10th anniversary of the broadcast"Magical Girl Madoka ☆ Magica"seriesDecided to!
・TV animation, theatrical version omnibus and new edition will be included!
Newly drawn illustrations will also be included! !!
-Product release date:March 2022Scheduled to be released
・The PR card will be distributed at the end of October!
* Distribution method will be announced later.
* The image is under development.
We are accepting registration for the build-divide TCG dedicated system "DIVE"!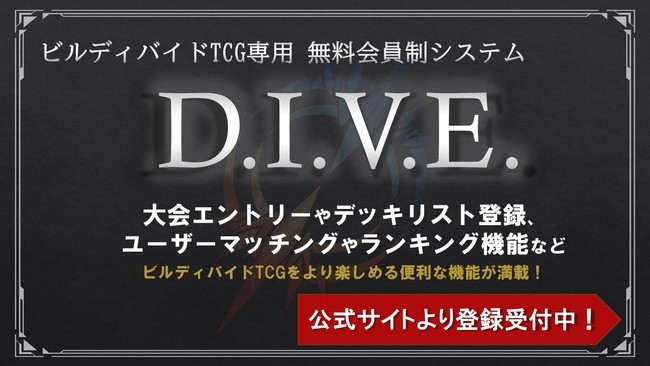 "Tournament search" "Tournament entry" "Deck registration" "User matching" "Ranking function" etc …
Full of features to make Build Divide TCG more fun and convenient!
You can use it for free! Now accepting acclaimed registration! !!
Booster Vol.1 release commemorative official tournament will be held!
★ Period: October 8, 2021 to December 2, 2021
・ Up to 4 events per store during the event period
・ There is a PR pack for the tournament
・ Reflected in the ranking depending on the outcome! Get titles and icons!
"Build Divide Trial Caravan" is being held nationwide!
★ Due to its popularity, the holding period will be extended until the end of October!
Please check the official website and official Twitter for the schedule!
Inquiries regarding the handling of this product
[email protected]
≁≁≁≁≁≁≁≁≁≁≁≁≁≁≁≁≁≁≁≁≁≁≁≁≁≁≁≁≁≁≁≁≁≁≁≁≁≁≁≁≁≁≁≁≁≁≁≁≁≁≁≁≁≁≁≁≁≁≁≁≁≁
build-divide.com
anime.build-divide.com
@build_divide (https://twitter.com/build_divide)
●アニメ:©build-divide project●TCG:©Aniplex Inc. All rights reserved.
.