© Akiyoshi Hongo, Fuji TV, Toei Animation
The TV anime "Digimon Adventure:" that is being broadcast on Fuji TV every Sunday from 9 am.
Digimon: The original soundtrack vol.2 containing BGM that colors the world will be released on August 25th.
In addition to 27 songs that color the work by composer Toshihiko Sahashi, insert songs and TV size of the ending theme will also be recorded!
[Product information]
Title | TV Anime "Digimon Adventure:" Original Soundtrack vol.2
Release Date | Wednesday, August 25, 2021
Contents | In addition to 27 BGM songs in the play, the ending theme and TV size of the inserted song are recorded.
Product number | COCX-41552 Price | ¥ 3,080 (tax included)
Product HP|https://columbia.jp/prod-info/COCX-41552/
◆ Toshihiko Sahashi
Born in Tokyo. Composer / arranger. Graduated from the Department of Composition, Faculty of Music, Tokyo University of the Arts.
In 1988, won the Grand Prize and Christine Reed Award at "New Artist Audition 1988" sponsored by CBS Sony.
In 2001, won the Television Drama Academy Award "Music Award in the Play" at "Lifesaving Ward 24:00".
In 2005, "Mobile Suit Gundam SEED" won the "JASRAC Award" bronze award.
In 2014, won the 9th place in the JASRAC International Award for "HUNTER x HUNTER".
In 2014, he won the "Monaco Red Cross Award" at the 54th Monte-Carlo Television Festival in the NHK special special drama "Battlefield Tokyo".
He has actively collaborated with overseas artists such as the London Symphony Orchestra and Celtic Woman on numerous soundtrack albums. Since 2017, he has been appointed music director of the musical "Annie" (art theater).
Masterpiece
○ Movie: "Criminal Law Article 39" "Princess ∃ Tomi"
○ Drama: NHK TV series "Chiritotechin" "Lifesaving Ward 24:00" "Millionaire Concentric"
○ Animation: "Mobile Suit Gundam SEED"
○ Musical: "Hula Girl" "Sailor Moon" "Kurikara"
[Contents]
1. Selected Children-Brave-
2. Competing Digimon
3. The hidden power of Digimon.Brilliant action
4. Digital world crisis
5. Start action of determination
6. Time limit
7. Selected Children-Desperate-
8. Selected Children-Responsive Mind-
9. Warriors overcoming fear
10. Break the chain
Song: Takayoshi Tanimoto Lyrics / Composition: Takayoshi Tanimoto
11. Super evolution!The brilliance of hope that never disappears
12. Rest in the middle of the trip
13. Digimon who do their best
14. Dashing!First contact
15. Mimi-chan Wars
16. We will not give up!Proof of power
17. Continuing days
18. Feelings for the lost
19. Your own darkness
20. Winning battle
21. Anguish against fate
22. Unfocused anger
23. Breath of life
24. Resonance, overlapping light
25. Total war!The power to collide
26. Birth of Zide Millenniummon
27. Selected Children-Invincible Strength-
28. I want to protect my partner
29. Q? (TV size)
Song: Reol Lyrics: Reol Composition: Giga・Reol.
30. Mind game (TV size)
Song: Maica_n Lyrics: Faith / Maica_n Composition: Maica_n
31. Overseas Highway (TV size)
Song: Wolpis Carter Lyrics: Wolpis Carter, Orangestar Composition: Orangestar
■ The TV anime "Digimon Adventure:" is being broadcast on Fuji TV every Sunday from 9 am! !!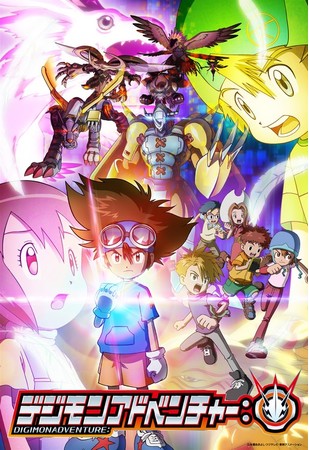 © Akiyoshi Hongo, Fuji TV, Toei Animation
Program official websitehttp://www.toei-anim.co.jp/tv/digimon/
Program official Twitterhttps://twitter.com/digimon_tv
.