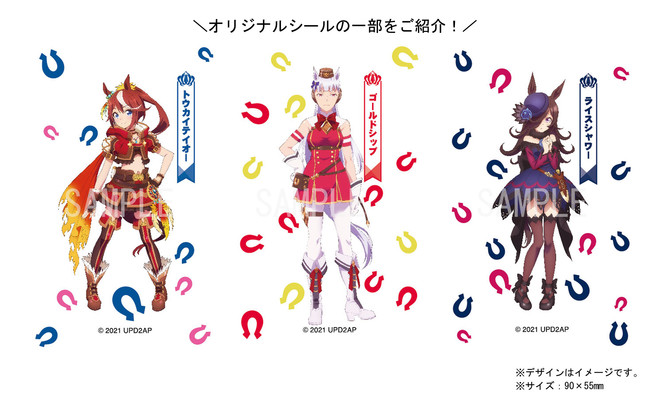 The "Gold Ship's special yakisoba" that appeared in the work is reproduced with a fool. The taste is punchy enough for fans. The Bakauke logo is also "PAKAUKE" to match the horse girl.
In addition, there are 20 types in total, with one sticker per bag that can be stuck and peeled off. Enjoy what kind of design will come out after opening ♪ Please collect it. * The sticker design is randomly enclosed.
<Product details>
Product Name: TV Anime "Uma Musume Pretty Derby Season 2" Pakauke Gold Ship Mustard Mayonnaise Yakisoba Flavor
Indicates the amount of content: 24g
JAN code: 4901336-191461
Suggested retail price: NPP
Best-by date: 180 days
Sales area: Nationwide
■ What is "Uma Musume Pretty Derby"?
This is the story of a world in which "Uma Musume", who has a brilliant name and competitive ability inherited from another world, has coexisted with humankind for a long time. Tokai Teio, who longs for Symboli Rudolf and aims to be an undefeated triple-crowned horse girl, and Mejiro McQueen, who takes pride in the famous family and challenges the consecutive championship of the Emperor's Award. As rivals and best friends, they will continue to run the with each other's dreams!
© 2021 Animation "Uma Musume Pretty Derby Season 2" Production Committee
■ Kuriyama Rice Cracker Co., Ltd. Company Profile A rice cracker manufacturer established in 1949. "Bakauke", which is the best-selling product, is a pioneer of character products in rice crackers. Introducing the corporate brand "Befco" in 2010, we are developing "fun, delicious, new" products that will make our customers even more happy.
■ "Bakauke" Product Overview Released in 1989. It features a brand development that is unique to rice crackers, such as using a ridiculous character for the package. To date, more than 280 flavors have been released, including seasonal and regional flavors.
This release manuscript
https://prtimes.jp/a/?f=d63435-20211006-e43242b6f20f7215e5ebc0061e989d4f.pdf
[Contact]
Kuriyama Rice Confectionery Co., Ltd. Customer Relations
Tel:0120-957-893
Monday-Friday (excluding holidays) 9 am-5pm
.