[PR]
The CGWORLD 2020 Creative Conference, which has become a well-established autumn event, was held completely online this year from Saturday, November 7th to Sunday, November 8th, 2020. In this article, we will report on the session entitled "How to Make YAMATOWORKS Style Animation".A small number of elite animation production companies, recently"Dragon's Dogma"Participated in 3D production of (Netflix original animation series / delivered from September 2020)YAMATOWORKSIntroducing the workflow and how to choose a PC and chair, which are the key to the production environment.
TEXT_ Katsunori Takahashi / Takahashi Katsunori
EDIT_ Miyuki Ogata (CGWORLD)
Prioritize the charm of the character and do not dare to ask for a three-view drawing

Mr. Shuhei Morita (CEO / Animation Director) of YAMATOWORKS and Mr. Satoshi Sawada (CG Director / Character Modeler) took the stage in this session. Through the case of the pilot film work "LS" (2017), the company's workflow and the commitment put into everywhere were introduced. In the workflow introduction,SycomofLepton WS3800TRX40AThere was also a demonstration of Look Dev by After Effects (hereafter, AE) using After Effects, and many questions were asked by viewers regarding the work of finely adjusting the hair shadow of the character, which was divided into complicated parts.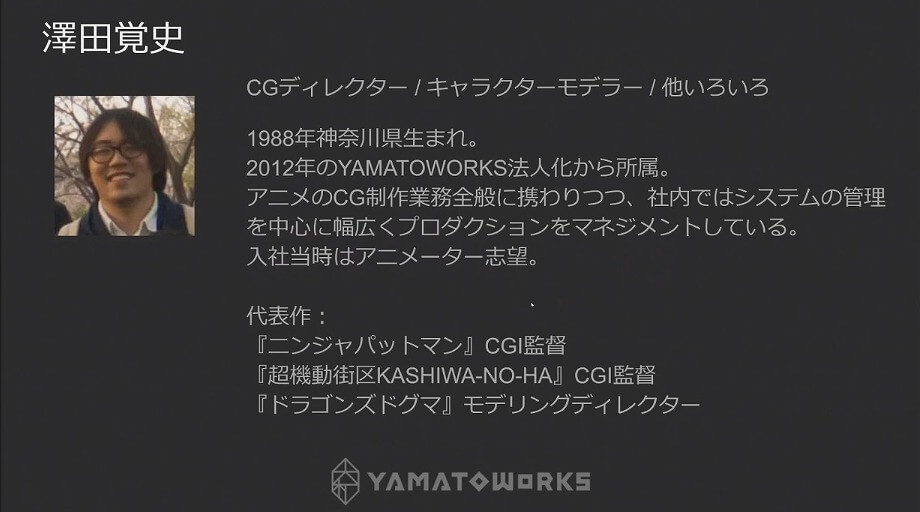 ▲ YAMATOWORKS was born in 2003 as a production unit. He has worked on multiple titles, including the OVA "FREEDOM" (2006-2008), which became a hot topic in the promotion of NISSIN FOODS'Cup Noodles, and was incorporated in 2012.After that, the omnibus theater animation『SHORT PEACE』"Ninety-nine", one of the works in (2013), TV animation"Tokyo Ghoul"(2014), "Tokyo Ghoul √A" (2005), Theater Animation"Ninja Batman"Participating in a wide range of titles regardless of media, such as (2018)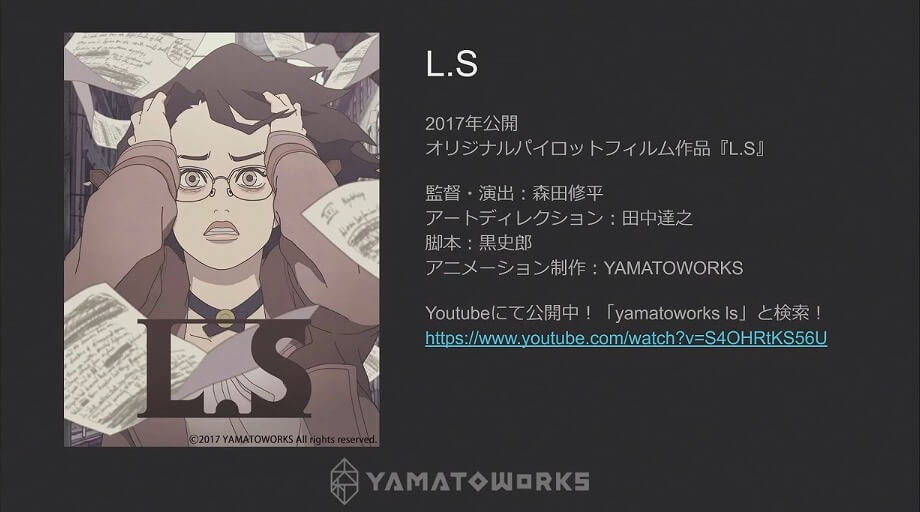 ▲ Original pilot film work "LS" (2017). With the title on the cover of "CGWORLD vol.250" (June 2019 issue), a basic course on CG animation using this work as an example was held at the CGWORLD 2019 Creative Conference.See the following articles for details of this course
Ryusuke Sakamoto (YAMATOWORKS) is instructing! CG Animation Basic Course | CGWCC Report (2)

▲ Sycom's Lepton WS3800TRX40A. Powerful desktop processor with 32 cores AMD Ryzen Threadripper 3970X. A large water-cooled radiator is standard equipment on the CPU cooler that controls cooling. With the overwhelming multitasking function that has never been seen before, you can work on character design, animation production, video editing, etc. without sacrificing your imagination.Detail isHereSee

Mr. Morita said about YAMATOWORKS, "I'm more conscious of being an animation production company than a 3D studio." He wants the staff he belongs to to think about the optimal method after taking a bird's eye view of not only 3D production but also animation production as a whole. "By considering the work of other sections such as pre-production, drawing, art, color design, photography, etc., the overall work efficiency will be improved," (Mr. Morita). The idea is also reflected in the workflow, and the policies such as "make all sections move comfortably" and "make the data structure easy to handle retakes" are thoroughly implemented.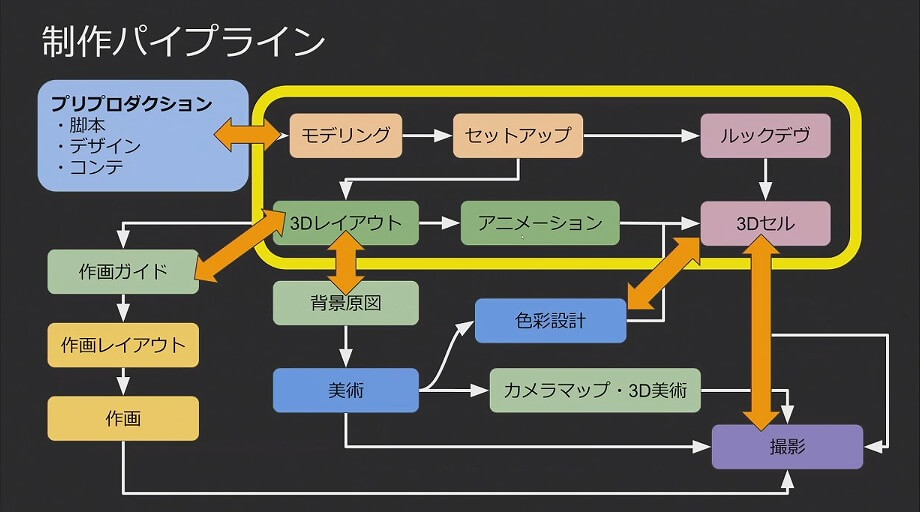 ▲ The production pipeline of YAMATOWORKS. "3D cell" is a compositing process by AE, which combines various materials to create a cel-like image.This picture is called a 3D cell in YAMATOWORKS.

Tatsuyuki Tanaka (animator, animation director, director) is in charge of character design for "LS", and a 3D model was created from his design drawings. "When ordering a design drawing, I didn't dare to ask for a three-dimensional drawing. In the three-dimensional drawing, the accuracy as a solid is prioritized, and the charm of the character is often sacrificed. It is attractive to Mr. Tanaka. We had you give priority to drawing a typical character, and we aimed to reproduce it in modeling "(Mr. Sawada).
▲ Image board of "LS" by Mr. Tanaka

When asking Mr. Tanaka to check the character model, he said that he rendered a model with a natural pose with his hands down instead of the T pose that is often used during modeling and setup. "I am aware that it is a natural pose when checking, regardless of whether it is inside or outside the company. Even if you are shown an image of an unnatural pose, you cannot judge whether it is good or bad. I try to make it a good pose "(Mr. Sawada).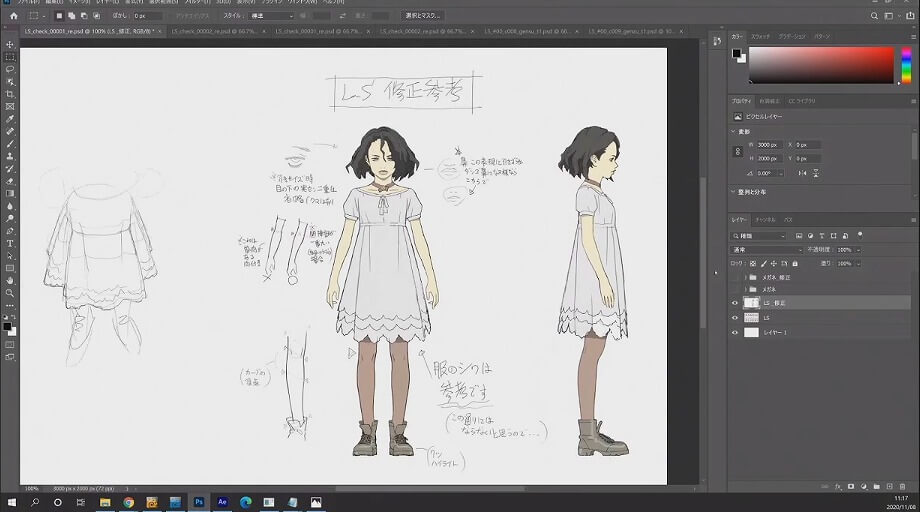 ▲ Mr. Tanaka's correction instruction for the character model.By showing the model with the center of gravity firmly on it, it is possible to make a more accurate judgment.

While reproducing the drawing of the drawing, we also practice the drawing unique to 3D

Morita said that understanding the resolution when printing on paper is essential when exchanging data with the drawing section. "Digital drawing is gradually being introduced, but there are many drawing people who print our drawing guide on paper and use it. If you do not render with the size and resolution of printing on paper in mind, There is waste, such as the size of the data becoming larger than necessary, "(Mr. Morita). In the case of art, it is almost digitized, but even so, by being aware of the size when printed on paper, it is possible to create reasonable data. In addition, the text color of the request to the drawing section is warm, and the text color of the request to the art section is cold. By following the conventions of animation production, smooth progress can be achieved.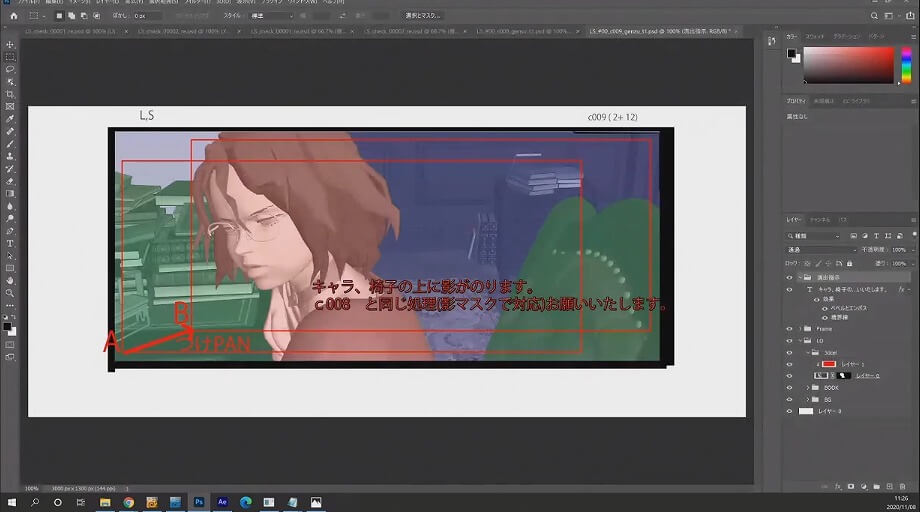 ▲ Request to the drawing section.The text color is warm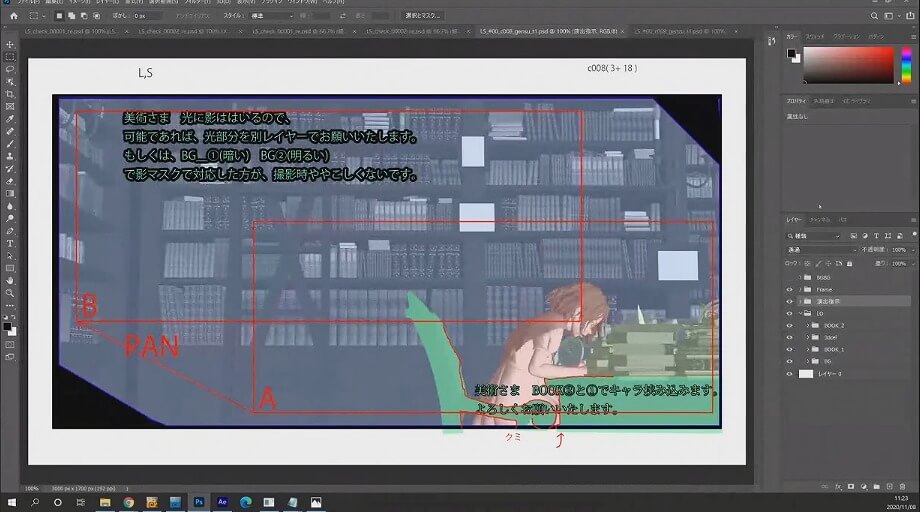 ▲ Request to the art section. The font color is cold.In addition, it is important to clearly indicate the range that does not appear on the screen and not to draw the part that does not need to be drawn.

In the animation process, we will focus on movement, and in the look-dev process, we will focus on adjusting the image creation such as line thickness and how to insert shadows. Especially in "LS", we are particular about the movement of the character's hair and the shadow, and fine adjustments are made to the hair that is divided into complicated parts.In the session, SycomLepton WS3800TRX40AThere was also one act that demonstrated the look dev of hair by operating AE using.Also, a plug-in that can paste textures on AEft-UVPassWas also introduced. I didn't use this plug-in when I made "LS", but I've been using it a lot lately, and it seems to be useful as a means to prevent re-rendering.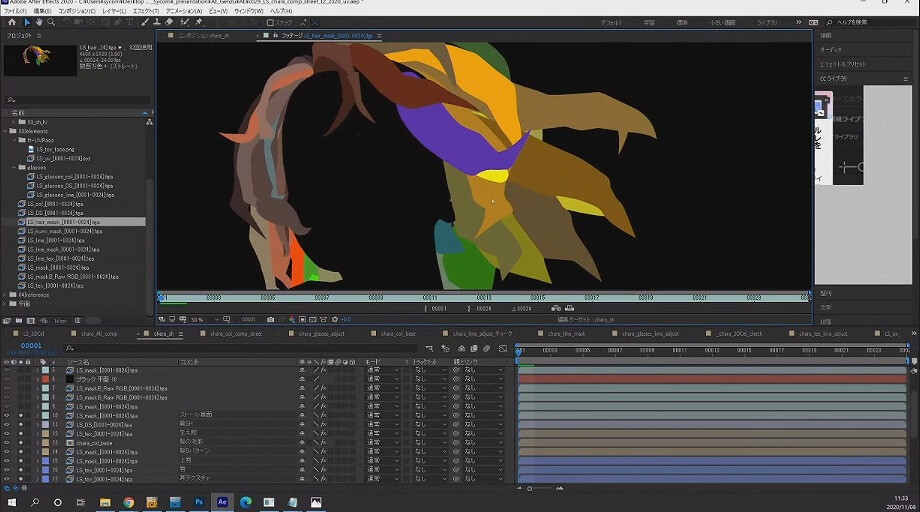 ▲ The work screen of AE during the demonstration of hair look dev.The condition of hair that has been divided into complicated parts is clearly indicated by color coding.

In the 3D cell process, materials such as colors, shadow information, and lines drawn from LightWave are combined on AE, and the adjustment results of the look fat process are also reflected to create a 3D cell (cel-like image). In addition, antialiasing is not applied to the color and line material, and the data makes it easy to select the area and color-code. Although it uses 3D, it can be said that YAMATOWORKS is particular about the fact that it is possible to reproduce the drawing animation by preparing data that is close to the animation animation. On the other hand, by utilizing materials that can be created because it is 3D, it is said that it is trying to improve expressiveness and efficiency of production.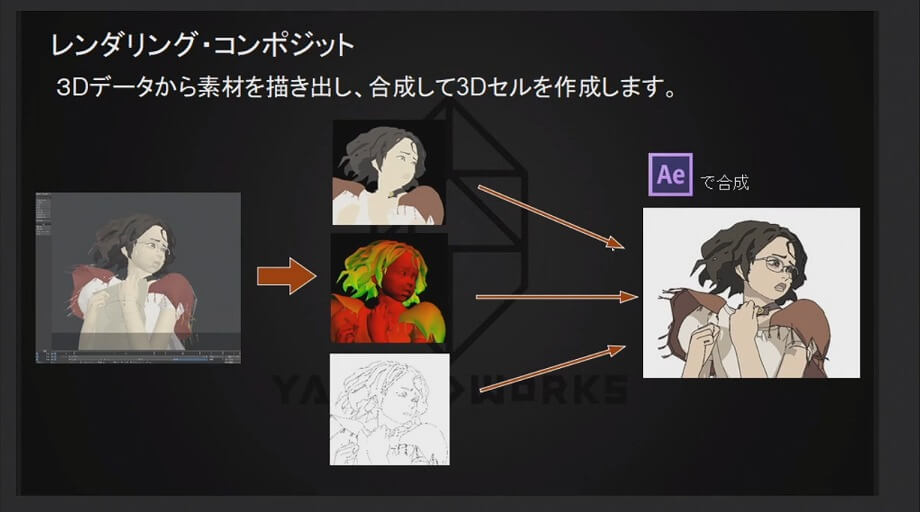 ▲ Introduction of 3D cell process. Combining materials such as colors, shadow information, and lines drawn from LightWave on AE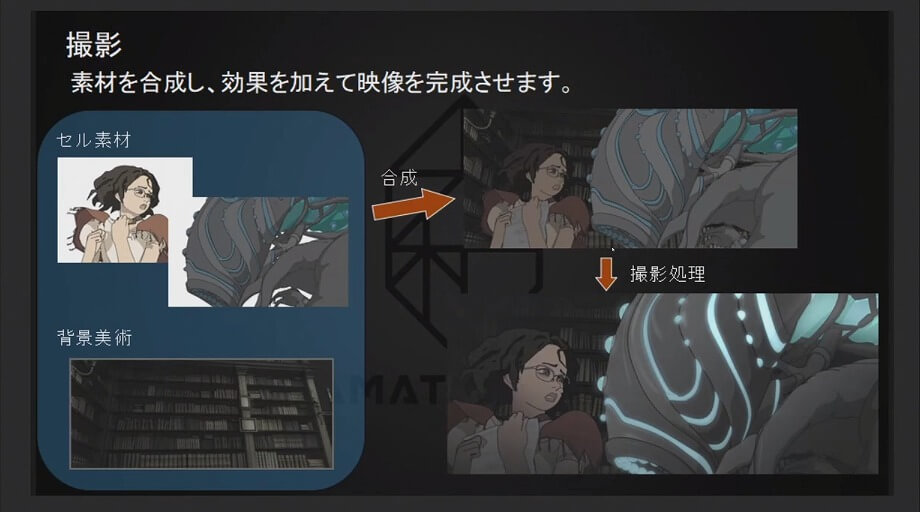 ▲ Introduction of the shooting process. The 3D cell and background are combined and photographed to complete.

Not all PCs need to be high spec.Introducing a PC with the necessary and sufficient specifications for each application

Since 2014, Sycom's PC has been used consistently in the production of YAMATOWORKS. Before that, there were accidents such as a thermal runaway in the summer and a PC being rendered dropped just before delivery. However, after the introduction of Sycom's PC, a safe production environment was realized. "About a year after the introduction of Sycom's PC, I opened the PC for cleaning, but there was no dust at all. It hardly breaks down, the sound is quiet, and it is a very robust PC. I think "(Mr. Morita). From the time of introduction to today, the number of failures has not been zero, but even if it fails, support will be provided immediately, so you can concentrate on production with confidence.
YAMATOWORKS PCs are divided into four types of specifications: animator, director, composite, and rendering, with the highest spec for composite. It is not necessary to make all PCs high-spec, so it seems that Sycom is proposing PCs with the necessary and sufficient specifications for each application.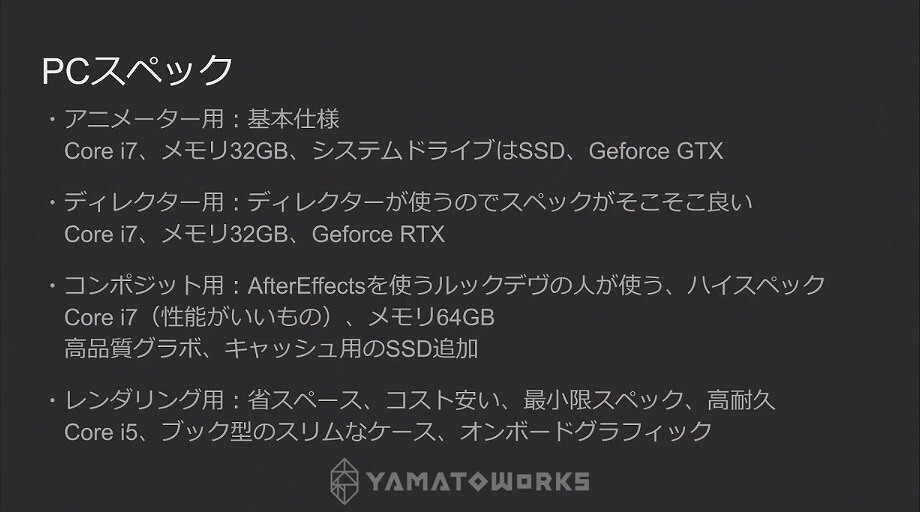 ▲ A list of PC specifications used by YAMATOWORKS.The highest specs are for composites, moderate for directors, average for animators, and minimal for renderings.

At the end of the session, a photo of Mr. Sawada's work desk was released, and many comments were received from viewers who envied the chair. "Currently, it is called" the present for the third year ", and for those who have been in the company for the third year.Herman MillerWe provide chairs such as. Like PCs, chairs are a cornerstone of the production environment and an important element that supports the health of artists, so I try to invest properly. Working efficiency is higher when using high-quality chairs, "says Morita.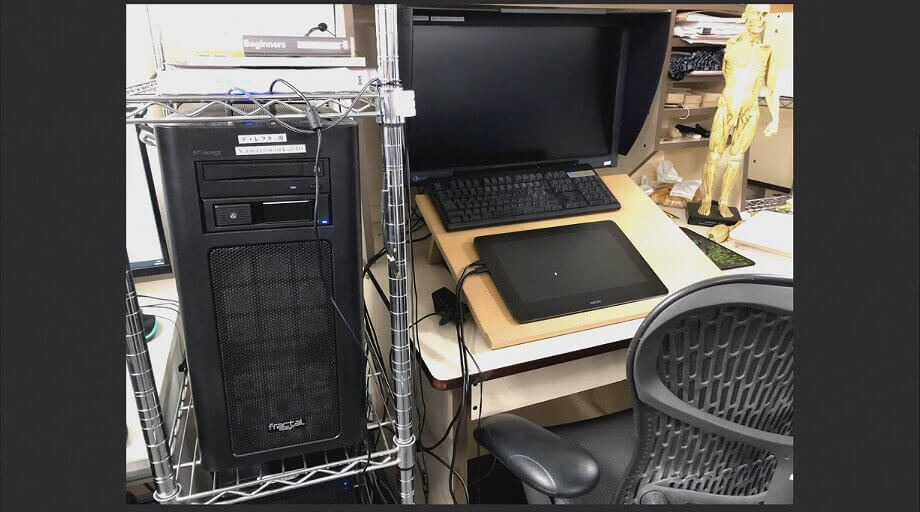 ▲ A photo of Mr. Sawada's work desk.Not only the Herman Miller chair known as the Aeron chair, but also the slanted keyboard and workbench for tablets, you can see the commitment everywhere.

We will not neglect the investment in the production environment, pay attention to the health of the PC and staff, and produce better works. This session, which gave a glimpse of the company's pride, ended in a state of enthusiasm, with constant comments and questions from viewers until the end.
Inquiries about the products used in this session

Sycom Co., Ltd.
TEL:048-994-6070/Mail:[email protected]
Reception hours: Weekdays 10:00 to 12:00, 13:00 to 17:00 (closed on Saturdays, Sundays, and holidays)
www.sycom.co.jp
copyright © 2021 YAMATOWORKS, INC. All Rights Reserved.

.