I think there are many people who watched animated movies on TV or actually went to the cinema during Golden Week. When I ask foreigners about the image of Japan, it is often said that "animation" and "ninja" are mentioned. Ninjas are rarely seen in the Reiwa era, so it seems that anime is a culture that represents Japan in both name and reality.
So how much do we know about Japanese anime? What was the first animation in Japan? How did TV anime permeate the living room? What was the background to that anime boom? It may be a good idea to study Japanese animation from scratch as a culture.
Grasp the history of Japanese animation at once
The new book introduced this time is『100 years of Japanese animation history Osamu Tezuka, Hayao Miyazaki, Hideaki Anno, Makoto Shinkai and others(Nobuyuki Tsugata / Written by Chuko Shinsho).. The author, Nobuyuki Tsugata, is an animation researcher and lecturer at Nihon University College of Art, Department of Film. He has studied anime from a wide range of fields, including film history and popular culture. Books related to anime such as "What is amazing about Japanese animation" (Shodensha new book), "Magic of light and color traveling in the world of Makoto Shinkai" (Heibonsha new book), "Kyoto Animation Incident" (Heibonsha new book) There are also many.
Chapter 1 begins with the story of "The Crab and the Monkey," one of Japan's first domestic animations that was screened in 1917 (Taisho 6). A work created by researching by imitating watching an overseas animated film. At first, it seems that it was a very time-consuming "paper animation" method of drawing all the moving characters and non-moving backgrounds in one picture and connecting them in a row.
It was 1963 that became the turning point of Japanese animation. Broadcasting of the TV anime "Astro Boy" will begin (Chapter 4). Osamu Tezuka, who had declared that he drew a manga to make an animation. "Astro Boy" by the studio "Mushi Production" led by Mr. Tezuka has established the framework of TV animation that is still inherited, "once a week, 1 episode 30 minutes, continuous broadcasting".
On the other hand, the production cost of one episode costs 2.5 million yen, but it is undertaken without profitability of 550,000 yen. Although there are pros and cons, Mushi Production, who formed the animation as a product, can be said to have brought about industrial modernism.
The goodness of this book is the sharp composition that picks up the important years in the history of animation and explains the masterpieces that hold the key. Although the content is solid and solid, it is easy to read, and you can see the role and significance of each animation in the background of each era.
As we enter Chapter 6, the number of readers who feel nostalgic will increase. 1979 was the year when many masterpieces such as "Mobile Suit Gundam" directed by Yoshiyuki Tomino, "Lupin III: Castle of Cagliostro" directed by Hayao Miyazaki, and "Galaxy Express 999" directed by Rintaro were produced.
However, "Cagliostro's Castle" did not perform well at the box office, and it was considered a failure at that time along with the previous year's TV anime "Future Boy Conan" (also directed by Hayao Miyazaki), which had a single-digit audience rating. To tell the truth, this stumbling block has a great influence on the history of animation later … There are many episodes where you can feel the connection of history, which you cannot understand by looking at a single work.
Nowadays, it has become an environment where you can easily enjoy old masterpieces with video channels and subscription video services distributed by animation studios.Site operated by the National Film Center of the National Museum of Modern Art, Tokyo"Japanese Animated Film Classics"Also released a prewar domestic animated film. If you take a closer look at the works in the history of anime listed in this book, you may be able to experience the depths of Japanese culture.
[Book introduction]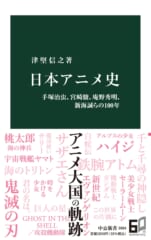 "100 Years of Japanese Anime History Osamu Tezuka, Hayao Miyazaki, Hideaki Anno, Makoto Shinkai"
Author: Nobuyuki Tsugata
Published by: Chuokoron-Shinsha
It's been over 100 years since the first domestic animation was made. Currently, it is very popular overseas, and related industries are doing well. This book is the history of anime, which has become one of Japan's leading pop cultures. Beginning with the first domestically produced work in 1917, "Astro Boy", which has established weekly broadcasting on television, "Nausicaa of the Valley of the Wind", which made the director's writer's character known, and late-night frame works have been increased. Taking up a number of epoch-making masterpieces such as "Neon Genesis Evangelion", the history and present are drawn.
See details on Rakuten Books
See details on Amazon
【profile】
Uzuki Ayu
Book reviewer and game columnist. He is serializing a fantasy review in "SF Magazine". He also handles commentary at the end of paperback books. He loves books regardless of genre such as science fiction, mystery, and non-fiction, with a focus on fantasy.