Korean 'K content' is attracting people around the world. Following 'Squid Game', which caused a global craze through the OTT platform Netflix, 'Hell', based on a webtoon, came out and at the same time as it appeared, it surpassed global competitors and climbed to the top spot faster than the squid game. How did Korea's content IP (intellectual property) industry gain global competitiveness?
Arirang International Broadcasting, together with the Korea Creative Content Agency, is a documentary that illuminates the Korean content IP craze blowing in the global market. property industry)' and aired on the 8th.
Recently, it has become common to produce Korean cultural contents in the form of OSMU (One Source Multi-Use). It is being transformed into various genres with original sources such as comics, novels, games, animations, and movies. Among them, webtoon, which is the core of content IP, has established itself as a trending content that can be easily enjoyed by people of all ages.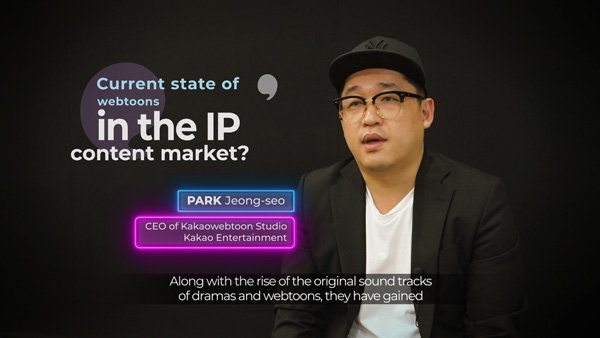 Park Jung-seo, CEO of Kakao Webtoon Studio of Kakao Entertainment, said, "Overseas, the Japanese comics market is several times larger than the global comics market combined, and Kakao has the No. 1 Piccoma app. Making 40% of the total sales with 2% or so, I think the foundation has been laid for Korean webtoons to exert more power in overseas markets." In particular, animation IP stands out in various content businesses. Since its release in 2014, SinB Apartment has been reborn in various genres such as cartoons and musicals, and has been steadily gaining popularity. Seok Jong-seo, director of CJ ENM's animation division, which produced the film, said, "Right now, we are making children-oriented works, but we are planning to try various things. Our goal is to create a spin-off version of SinB Apartment for a slightly grown high target, and develop it into a work that can be enjoyed by both adults and teenagers," he said.
In addition, Com2uS, which produces a mobile game platform recognized in the world market for the potential of K-game by setting a new sales record for the first time in a Korean mobile game, and Brush Theater, which creates various content IPs from performance culture to the publishing industry, etc. It contains the stories of representatives of various industries leading the industry.
According to the Bank of Korea, the intellectual property trade surplus in the first half of 2021 is $850 million. The reason that the Korean content IP industry is attracting attention is that it was able to achieve economic performance in the global market by maintaining the uniqueness of Korean content while trying to change into a new industrial structure. Korea's unique fandom platform and the diversification of OTT platforms are also said to have influenced the surplus. In response, Lee Hyun-joo, head of the Korea Creative Content Agency's Popular Culture Division, said, "The success of K-contents is largely attributed to producers and creators, but I also believe that the government, which has continuously invested in the cultural industry, also has a share. We have been supporting various investment matching programs so that we can discover excellent content, support the initial production cost, and complete the project to the end."
In addition, Lee In-gyun, director of Wadiz IP business, Lee Seong-min, professor of Media and Imaging, Korea Communications University, Lee Byung-min, cultural contents, Konkuk University, Ryu Tae-gyu, Korea Intellectual Property Research Institute, Sejong University Professor Han Chang-wan, LG Economic Research Institute Researcher Kim Gwi-hyun, etc. The characters analyze the Korean content IP craze that continues the success story in the global market.
This documentary will be aired three times on the 8th at 10:30 am, 3 pm and 10:30 pm.
Reporter Hae-shik Park, Donga.com [email protected]
close the window
Recommend an article
What is the secret of Korea's content IP captivating the world?
Best Featured News