A mother and her young son have become online sensations thanks to their incredible cosplay videos of their favorite superheroes.
Spideymom and his son Spideykid live in Philadelphia, where they share their love for comic books on social media.
The couple – who, like many superheroes, keep their real names a secret – have several viral videos on TikTok.
Spideymom and Spideykid in their matching costumes, in Philadelphia.
@ spidey_mom / Zenger
One shows Spideykid dressed in a Spiderman costume with Venom as a sinister glove puppet that has been viewed 11.3 million times.
Spideymom, who works as a senior marketing manager, said his superhero cosplay started when his son was 4 years old.
"He saw an ad for a local comic con and begged me to bring him over and dress up with him," she said.
"So I put together a Spider-Man and Captain America cosplay and the rest is history.
"He loves coming up with new cosplay ideas for characters he loves, things you don't normally see.
"He cares about people first, and often volunteers at events and charity events, his goal is to make people smile.
"We are big fans of Marvel, from comics to movies to video games.
"Spideykid's favorite hero is Miles Morales, but there's a lot behind him.
Spideykid shows off his one-of-a-kind Marvel "Venom" cosplay costume in Philadelphia.
@ spidey_mom / Zenger
"I try to offer additions to existing costumes at low cost. I am mainly inspired by other cosplays. I will see an idea and then make it my own.
"I also make sure the cosplays are child-friendly. For example, the Venom puppet is completely detachable and secured with magnets.
"We make the costumes with a lot of hot glue and puffy paint! The head of the puppet is made of cardboard and wooden support beams. The arm itself is a sleeve of a sweater. »
Spideymom told Zenger News, "I cosplay with my son to enter his world and create lasting memories.
"He loves hosting panels with me about how parents can connect with their young children by playing video games or getting involved in the things their kids love. »
She revealed that her son's real superpower is his concern for others.
"My son always says he can't be a superhero because he doesn't have real superpowers, however, he can be a hero because he has the ability to help people when they need it.
"I always support him in collecting toothbrushes or jackets for people who need them.
"He raises money for various organizations that go further than we can. And he's the first to volunteer to send shivers down a neighbor's driveway when it snows or give their lunch or snack to a kid who doesn't have theirs. »
She added, "His heart is huge and I am here for everything. I will support him, but he will choose to help those around him. »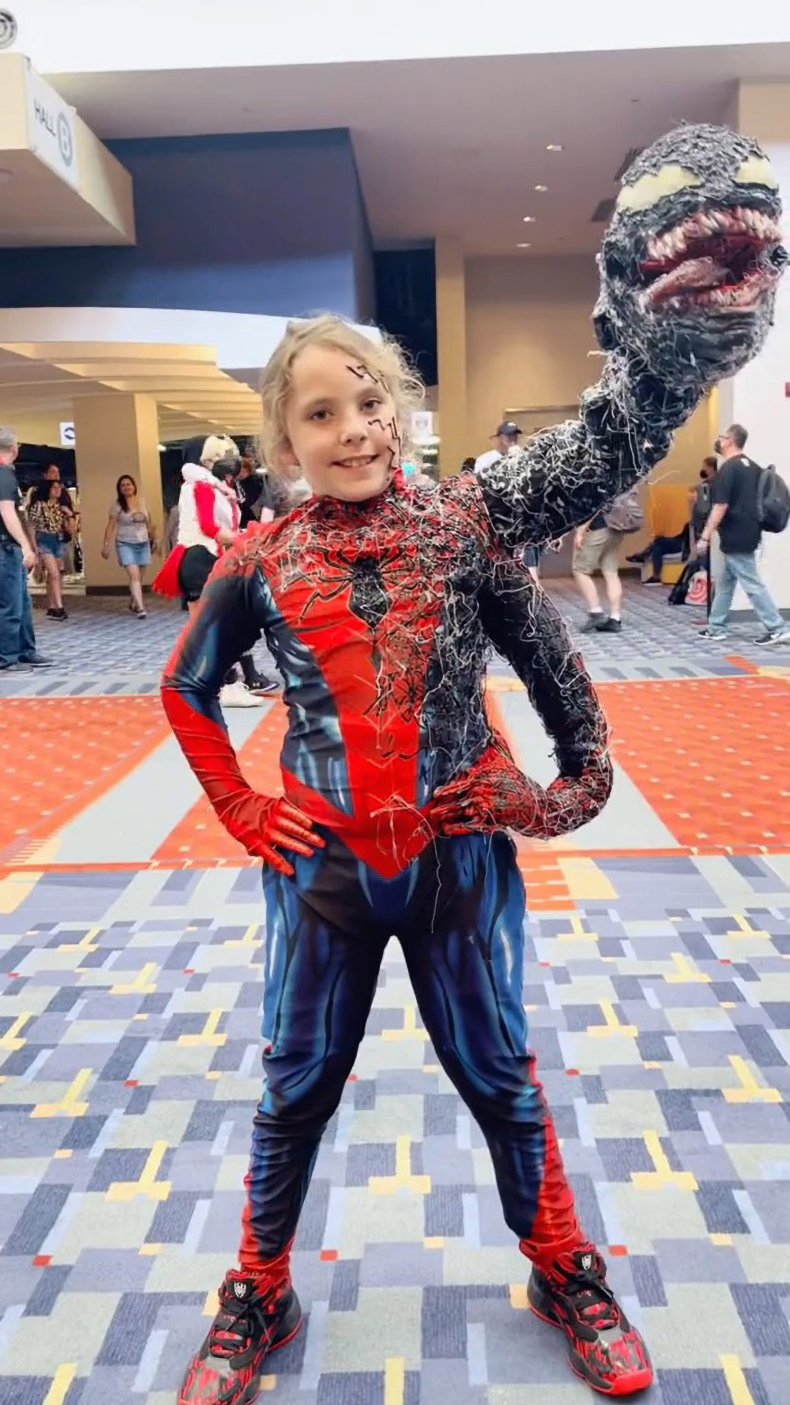 This story was provided to Newsweek by Zenger News.